PokerStars SCOOP 2018 Begins This Weekend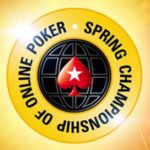 PokerStars Spring Championship of Online Poker (SCOOP) is back in action beginning this weekend and it is set to offer online poker players the best in tournament gaming. From May 6th until the 21st, PokerStars will be hosting SCOOP X -marking 10 years of SCOOP gaming- with more than $110,000,000 in guaranteed prize money up for grabs! Over $65,000,000 will be guaranteed during SCOOP events and an additional $1,000,000 GTD event on the schedule every day.
Daily Millions in Online Poker Prizes
SCOOP X will be offering what PokerStars is calling Daily Millions. At least one event each day of the schedule will feature a guaranteed $1 million prize pool. The $65m in total SCOOP prize money is the most ever offered by a series of PokerStars. A ton of added value will be providing during SCOOP X as well, including a $50,000 10 Years of SCOOP Freeroll open to any one who has ever competed in a previous SCOOP event, as well as five players earning a Platinum Pass to the PokerStars Players NL Hold'em Championship.
SCOOP X Main Events
Included in the schedule are three Main Events taking place on May 20th, with an affordable $109 buy-in, a $1,050 buy-in and a $10,300 buy-in. The Main Events will offer over $10,000,000 in guaranteed prize money total.
Need More Info About 2018 SCOOP?
Players can catch all the action by visiting PokerStars and logging in to a real money account. The online poker room is also offering championship incentives, with chances to win a seat to events for super low buy-ins. Right now, PokerStars is providing SCOOP entries via Spin & Go tournaments. The special Spin & Go option is available until May 20th with buy-in levels of $7.50 and $35. Look under the Spin & Go tab to take part.
Complete SCOOP Tournament Schedule
| Tournament ID | Date | Prize Pool |
| --- | --- | --- |
| SCOOP-02-L: $11 NLHE [8-Max, Mini Sunday Kickoff SE], $100K Gtd | 06 May 13:00 | $100,000* |
| SCOOP-02-M: $109 NLHE [8-Max, Sunday Kickoff SE], $250K Gtd | 06 May 13:00 | $250,000* |
| SCOOP-02-H: $1,050 NLHE [8-Max], $500K Gtd | 06 May 13:00 | $500,000* |
| SCOOP-03-L: $22 NLHE [Progressive KO], $250K Gtd | 06 May 15:30 | $250,000* |
| SCOOP-03-M: $215 NLHE [Progressive KO, Sunday Warm-Up SE], $750K Gtd | 06 May 15:30 | $750,000* |
| SCOOP-03-H: $2,100 NLHE [Progressive KO], $1,000,000 Gtd | 06 May 15:30 | $1,000,000* |
| SCOOP-04-L: $22 NLHE [Mini Sunday Million SE], $200K Gtd | 06 May 18:00 | $200,000* |
| SCOOP-04-M: $215 NLHE [Sunday Million SE], $1,000,000 Gtd | 06 May 18:00 | $1,000,000* |
| SCOOP-04-H: $2,100 NLHE, $1,000,000 Gtd | 06 May 18:00 | $1,000,000* |
| SCOOP-05-L: $22 PLO [6-Max], $100K Gtd | 06 May 20:00 | $100,000* |
| SCOOP-05-M: $215 PLO [6-Max], $250K Gtd | 06 May 20:00 | $250,000* |
| SCOOP-05-H: $2,100 PLO [6-Max], $500K Gtd | 06 May 20:00 | $500,000* |
| SCOOP-06-L: $11 NLHE [6-Max], $50K Gtd | 06 May 21:30 | $50,000* |
| SCOOP-06-M: $109 NLHE [6-Max], $200K Gtd | 06 May 21:30 | $200,000* |
| SCOOP-06-H: $1,050 NLHE [6-Max], $400K Gtd | 06 May 21:30 | $400,000* |
| SCOOP-07-L: $22 NLO8 [6-Max, Progressive KO], $50K Gtd | 07 May 16:00 | $50,000* |
| SCOOP-07-M: $215 NLO8 [6-Max, Progressive KO], $100K Gtd | 07 May 16:00 | $100,000* |
| SCOOP-07-H: $2,100 NLO8 [6-Max, Progressive KO], $200K Gtd | 07 May 16:00 | $200,000* |
| SCOOP-08-L: $11 NLHE [8-Max, Progressive KO], $150K Gtd | 07 May 18:00 | $150,000* |
| SCOOP-08-M: $109 NLHE [8-Max, Progressive KO], $400K Gtd | 07 May 18:00 | $400,000* |
| SCOOP-08-H: $1,050 NLHE [8-Max, Progressive KO], $1,000,000 Gtd | 07 May 18:00 | $1,000,000* |
| SCOOP-09-L: $11 HORSE, $30K Gtd | 07 May 20:00 | $30,000* |
| SCOOP-09-M: $109 HORSE, $75K Gtd | 07 May 20:00 | $75,000* |
| SCOOP-09-H: $1,050 HORSE, $150K Gtd | 07 May 20:00 | $150,000* |
| SCOOP-10-L: $22 Razz, $35K Gtd | 08 May 16:00 | $35,000* |
| SCOOP-10-M: $215 Razz, $75K Gtd | 08 May 16:00 | $75,000* |
| SCOOP-10-H: $2,100 Razz, $150K Gtd | 08 May 16:00 | $150,000* |
| SCOOP-11-L: $11 NLHE, $100K Gtd | 08 May 18:00 | $100,000* |
| SCOOP-11-M: $109 NLHE [Mini Super Tuesday SE], $350K Gtd | 08 May 18:00 | $350,000* |
| SCOOP-11-H: $1,050 NLHE [Super Tuesday SE], $1,000,000 Gtd | 08 May 18:00 | $1,000,000* |
| SCOOP-12-L: $5.50 NLHE [6-Max, Progressive KO, Win the Button], $50K Gtd | 08 May 21:00 | $50,000* |
| SCOOP-12-M: $55 NLHE [6-Max, Progressive KO, Win the Button], $200K Gtd | 08 May 21:00 | $200,000* |
| SCOOP-12-H: $530 NLHE [6-Max, Progressive KO, Win the Button], $400K Gtd | 08 May 21:00 | $400,000* |
| SCOOP-13-L: $22 FL Triple Draw 2-7, $30K Gtd | 09 May 16:00 | $30,000* |
| SCOOP-13-M: $215 FL Triple Draw 2-7, $60K Gtd | 09 May 16:00 | $60,000* |
| SCOOP-13-H: $2,100 FL Triple Draw 2-7, $175K Gtd | 09 May 16:00 | $175,000* |
| SCOOP-14-L: $215 NLHE [8-Max, High Roller], $1,000,000 Gtd | 09 May 18:00 | $1,000,000* |
| SCOOP-14-M: $2,100 NLHE [8-Max, High Roller], $1,000,000 Gtd | 09 May 18:00 | $1,000,000* |
| SCOOP-14-H: $25,000 NLHE [8-Max, High Roller], $2,500,000 Gtd | 09 May 18:00 | $2,500,000* |
| SCOOP-15-L: $5.50+R PLO [6-Max], $50K Gtd | 09 May 20:00 | $50,000* |
| SCOOP-15-M: $55+R PLO [6-Max], $100K Gtd | 09 May 20:00 | $100,000* |
| SCOOP-15-H: $530+R PLO [6-Max], $250K Gtd | 09 May 20:00 | $250,000* |
| SCOOP-16-L: $55 NLHE [6-Max, Turbo, High Roller], $150K Gtd | 09 May 21:30 | $150,000* |
| SCOOP-16-M: $530 NLHE [6-Max, Turbo, High Roller], $300K Gtd | 09 May 21:30 | $300,000* |
| SCOOP-16-H: $5,200 NLHE [6-Max, Turbo, High Roller], $500K Gtd | 09 May 21:30 | $500,000* |
| SCOOP-17-L: $22 FLHE, $25K Gtd | 10 May 16:00 | $25,000* |
| SCOOP-17-M: $215 FLHE, $50K Gtd | 10 May 16:00 | $50,000* |
| SCOOP-17-H: $2,100 FLHE, $150K Gtd | 10 May 16:00 | $150,000* |
| SCOOP-18-L: $11 NLHE [Progressive KO], $150K Gtd | 10 May 18:00 | $150,000* |
| SCOOP-18-M: $109 NLHE [Progressive KO, Mini Thursday Thrill SE], $500K Gtd | 10 May 18:00 | $500,000* |
| SCOOP-18-H: $1,050 NLHE [Progressive KO, Thursday Thrill SE], $1,000,000 Gtd | 10 May 18:00 | $1,000,000* |
| SCOOP-19-L: $22 NLHE [6-Max], $100K Gtd | 10 May 21:00 | $100,000* |
| SCOOP-19-M: $215 NLHE [6-Max], $250K Gtd | 10 May 21:00 | $250,000* |
| SCOOP-19-H: $2,100 NLHE [6-Max], $500K Gtd | 10 May 21:00 | $500,000* |
| SCOOP-20-L: $11 PLO8 [8-Max], $25K Gtd | 11 May 16:00 | $25,000* |
| SCOOP-20-M: $109 PLO8 [8-Max], $75K Gtd | 11 May 16:00 | $75,000* |
| SCOOP-20-H: $1,050 PLO8 [8-Max], $150K Gtd | 11 May 16:00 | $150,000* |
| SCOOP-21-L: $22 NLHE, $150K Gtd | 11 May 18:00 | $150,000* |
| SCOOP-21-M: $215 NLHE, $400K Gtd | 11 May 18:00 | $400,000* |
| SCOOP-21-H: $2,100 NLHE, $1,000,000 Gtd | 11 May 18:00 | $1,000,000* |
| SCOOP-22-L: $22 NLHE [6-Max, Shootout], $50K Gtd – NO LATE REGISTRATION | 11 May 20:30 | $50,000* |
| SCOOP-22-M: $215 NLHE [6-Max, Shootout], $150K Gtd – NO LATE REGISTRATION | 11 May 20:30 | $150,000* |
| SCOOP-22-H: $2,100 NLHE [6-Max, Shootout], $300K Gtd – NO LATE REGISTRATION | 11 May 20:30 | $300,000* |
| SCOOP-23-L: $5.50 5-Card NLO [6-Max, Turbo], $20K Gtd | 11 May 22:30 | $20,000* |
| SCOOP-23-M: $55 5-Card NLO [6-Max, Turbo], $50K Gtd | 11 May 22:30 | $50,000* |
| SCOOP-23-H: $530 5-Card NLO [6-Max, Turbo], $150K Gtd | 11 May 22:30 | $150,000* |
| SCOOP-24-L: $22 8-Game, $40K Gtd | 12 May 16:00 | $40,000* |
| SCOOP-24-M: $215 8-Game, $100K Gtd | 12 May 16:00 | $100,000* |
| SCOOP-24-H: $2,100 8-Game, $250K Gtd | 12 May 16:00 | $250,000* |
| SCOOP-25-L: $5.50+R NLHE, $125K Gtd | 12 May 18:00 | $125,000* |
| SCOOP-25-M: $55+R NLHE, $250K Gtd | 12 May 18:00 | $250,000* |
| SCOOP-25-H: $530+R NLHE, $400K Gtd | 12 May 18:00 | $400,000* |
| SCOOP-26-L: $11 FLO8 [8-Max], $25K Gtd | 12 May 19:30 | $25,000* |
| SCOOP-26-M: $109 FLO8 [8-Max], $50K Gtd | 12 May 19:30 | $50,000* |
| SCOOP-26-H: $1,050 FLO8 [8-Max], $125K Gtd | 12 May 19:30 | $125,000* |
| SCOOP-27-L: $11 NLHE [6-Max, Progressive KO, Turbo], $125K Gtd | 12 May 21:00 | $125,000* |
| SCOOP-27-M: $109 NLHE [6-Max, Progressive KO, Turbo], $350K Gtd | 12 May 21:00 | $350,000* |
| SCOOP-27-H: $1,050 NLHE [6-Max, Progressive KO, Turbo], $1,000,000 Gtd | 12 May 21:00 | $1,000,000* |
| SCOOP-28-L: $5.50 NLHE, $30K Gtd | 13 May 10:00 | $30,000* |
| SCOOP-28-M: $55 NLHE, $100K Gtd | 13 May 10:00 | $100,000* |
| SCOOP-28-H: $530 NLHE, $200K Gtd | 13 May 10:00 | $200,000* |
| SCOOP-29-L: $11 NLHE [8-Max, Progressive KO, Mini Sunday Kickoff SE], $75K Gtd | 13 May 13:00 | $75,000* |
| SCOOP-29-M: $109 NLHE [8-Max, Progressive KO, Sunday Kickoff SE], $250K Gtd | 13 May 13:00 | $250,000* |
| SCOOP-29-H: $1,050 NLHE [8-Max, Progressive KO], $500K Gtd | 13 May 13:00 | $500,000* |
| SCOOP-30-L: $22 NLHE [6-Max], $150K Gtd | 13 May 15:30 | $150,000* |
| SCOOP-30-M: $215 NLHE [6-Max, Sunday Warm-Up SE], $500K Gtd | 13 May 15:30 | $500,000* |
| SCOOP-30-H: $2,100 NLHE [6-Max], $1,000,000 Gtd | 13 May 15:30 | $1,000,000* |
| SCOOP-31-L: $5.50 NLHE, $50K Gtd | 13 May 18:00 | $50,000* |
| SCOOP-31-M: $55 NLHE [Mini Sunday Million SE], $250K Gtd | 13 May 18:00 | $250,000* |
| SCOOP-31-H: $530 NLHE, $1,000,000 Gtd | 13 May 18:00 | $1,000,000* |
| SCOOP-32-L: $109 PLO [6-Max, High Roller], $200K Gtd | 13 May 20:00 | $200,000* |
| SCOOP-32-M: $1,050 PLO [6-Max, High Roller], $500K Gtd | 13 May 20:00 | $500,000* |
| SCOOP-32-H: $10,300 PLO [6-Max, High Roller], $1,000,000 Gtd | 13 May 20:00 | $1,000,000* |
| SCOOP-33-L: $11 Stud Hi/Lo, $20K Gtd | 14 May 16:00 | $20,000* |
| SCOOP-33-M: $109 Stud Hi/Lo, $50K Gtd | 14 May 16:00 | $50,000* |
| SCOOP-33-H: $1,050 Stud Hi/Lo, $150K Gtd | 14 May 16:00 | $150,000* |
| SCOOP-34-L: $5.50 NLHE [6-Max, Progressive KO], $75K Gtd | 14 May 18:00 | $75,000* |
| SCOOP-34-M: $55 NLHE [6-Max, Progressive KO], $250K Gtd | 14 May 18:00 | $250,000* |
| SCOOP-34-H: $530 NLHE [6-Max, Progressive KO], $1,000,000 Gtd | 14 May 18:00 | $1,000,000* |
| SCOOP-35-L: $11 5-Card NLO8 [6-Max], $40K Gtd | 14 May 20:00 | $40,000* |
| SCOOP-35-M: $109 5-Card NLO8 [6-Max], $100K Gtd | 14 May 20:00 | $100,000* |
| SCOOP-35-H: $1,050 5-Card NLO8 [6-Max], $200K Gtd | 14 May 20:00 | $200,000* |
| SCOOP-36-L: $5.50 NLHE [Deep Stacks], $50K Gtd | 15 May 15:00 | $50,000* |
| SCOOP-36-M: $55 NLHE [Deep Stacks], $200K Gtd | 15 May 15:00 | $200,000* |
| SCOOP-36-H: $530 NLHE [Deep Stacks], $400K Gtd | 15 May 15:00 | $400,000* |
| SCOOP-37-L: $22 NLHE [8-Max], $150K Gtd | 15 May 18:00 | $150,000* |
| SCOOP-37-M: $215 NLHE [8-Max, Mini Super Tuesday SE], $400K Gtd | 15 May 18:00 | $400,000* |
| SCOOP-37-H: $2,100 NLHE [8-Max, Super Tuesday SE], $1,000,000 Gtd | 15 May 18:00 | $1,000,000* |
| SCOOP-38-L: $5.50 PLO [4-Max, Progressive KO], $50K Gtd | 15 May 20:00 | $50,000* |
| SCOOP-38-M: $55 PLO [4-Max, Progressive KO], $100K Gtd | 15 May 20:00 | $100,000* |
| SCOOP-38-H: $530 PLO [4-Max, Progressive KO], $400K Gtd | 15 May 20:00 | $200,000* |
| SCOOP-39-L: $11 NLO8 [6-Max], $25K Gtd | 16 May 16:00 | $25,000* |
| SCOOP-39-M: $109 NLO8 [6-Max], $75K Gtd | 16 May 16:00 | $75,000* |
| SCOOP-39-H: $1,050 NLO8 [6-Max], $175K Gtd | 16 May 16:00 | $175,000* |
| SCOOP-40-L: $55 NLHE [8-Max, High Roller], $200K Gtd | 16 May 18:00 | $200,000* |
| SCOOP-40-M: $530 NLHE [8-Max, High Roller], $500K Gtd | 16 May 18:00 | $500,000* |
| SCOOP-40-H: $5,200 NLHE [8-Max, High Roller], $1,000,000 Gtd | 16 May 18:00 | $1,000,000* |
| SCOOP-41-L: $22 HORSE, $30K Gtd | 16 May 19:30 | $30,000* |
| SCOOP-41-M: $215 HORSE, $75K Gtd | 16 May 19:30 | $75,000* |
| SCOOP-41-H: $2,100 HORSE, $200K Gtd | 16 May 19:30 | $200,000* |
| SCOOP-42-L: $22 NLHE [Heads-Up, Shootout], $40,960 Gtd – NO LATE REGISTRATION | 16 May 21:00 | $40,960* |
| SCOOP-42-M: $215 NLHE [Heads-Up, Shootout], $102,400 Gtd – NO LATE REGISTRATION | 16 May 21:00 | $102,400* |
| SCOOP-42-H: $2,100 NLHE [Heads-Up, Shootout], $256K Gtd – NO LATE REGISTRATION | 16 May 21:00 | $256,000* |
| SCOOP-43-L: $11 NLHE, $50K Gtd | 17 May 00:00 | $50,000* |
| SCOOP-43-M: $109 NLHE, $150K Gtd | 17 May 00:00 | $150,000* |
| SCOOP-43-H: $1,050 NLHE, $300K Gtd | 17 May 00:00 | $300,000* |
| SCOOP-44-L: $5.50 NLHE [6-Max], $50K Gtd | 17 May 15:00 | $50,000* |
| SCOOP-44-M: $55 NLHE [6-Max], $150K Gtd | 17 May 15:00 | $150,000* |
| SCOOP-44-H: $530 NLHE [6-Max], $350K Gtd | 17 May 15:00 | $350,000* |
| SCOOP-45-L: $22 NLHE [Progressive KO], $200K Gtd | 17 May 18:00 | $200,000* |
| SCOOP-45-M: $215 NLHE [Progressive KO, Mini Thursday Thrill SE], $500K Gtd | 17 May 18:00 | $500,000* |
| SCOOP-45-H: $2,100 NLHE [Progressive KO, Thursday Thrill SE], $1,000,000 Gtd | 17 May 18:00 | $1,000,000* |
| SCOOP-46-L: $5.50 8-Game, $10K Gtd | 17 May 20:00 | $10,000* |
| SCOOP-46-M: $55 8-Game, $40K Gtd | 17 May 20:00 | $40,000* |
| SCOOP-46-H: $530 8-Game, $100K Gtd | 17 May 20:00 | $100,000* |
| SCOOP-47-L: $5.50 NLHE [8-Max], $30K Gtd | 18 May 14:00 | $30,000* |
| SCOOP-47-M: $55 NLHE [8-Max], $100K Gtd | 18 May 14:00 | $100,000* |
| SCOOP-47-H: $530 NLHE [8-Max], $200K Gtd | 18 May 14:00 | $200,000* |
| SCOOP-48-L: $22 PLO [6-Max, Win the Button], $75K Gtd | 18 May 16:00 | $75,000* |
| SCOOP-48-M: $215 PLO [6-Max, Win the Button], $150K Gtd | 18 May 16:00 | $150,000* |
| SCOOP-48-H: $2,100 PLO [6-Max, Win the Button], $400K Gtd | 18 May 16:00 | $400,000* |
| SCOOP-49-L: $11 NLHE, $60K Gtd | 18 May 18:00 | $60,000* |
| SCOOP-49-M: $109 NLHE, $200K Gtd | 18 May 18:00 | $200,000* |
| SCOOP-49-H: $1,050 NLHE, $1,000,000 Gtd | 18 May 18:00 | $1,000,000* |
| SCOOP-50-L: $11 FL Badugi, $15K Gtd | 18 May 19:30 | $15,000* |
| SCOOP-50-M: $109 FL Badugi, $30K Gtd | 18 May 19:30 | $30,000* |
| SCOOP-50-H: $1,050 FL Badugi, $60K Gtd | 18 May 19:30 | $60,000* |
| SCOOP-51-L: $5.50 NLHE [3-Max, Progressive KO, Zoom, Turbo], $75K Gtd | 18 May 21:00 | $75,000* |
| SCOOP-51-M: $55 NLHE [3-Max, Progressive KO, Zoom, Turbo], $250K Gtd | 18 May 21:00 | $250,000* |
| SCOOP-51-H: $530 NLHE [3-Max, Progressive KO, Zoom, Turbo], $500K Gtd | 18 May 21:00 | $500,000* |
| SCOOP-52-L: $11 Stud, $15K Gtd | 19 May 16:00 | $15,000* |
| SCOOP-52-M: $109 Stud, $30K Gtd | 19 May 16:00 | $30,000* |
| SCOOP-52-H: $1,050 Stud, $60K Gtd | 19 May 16:00 | $60,000* |
| SCOOP-53-L: $5.50 NLHE [8-Max, Progressive KO, Win the Button], $100K Gtd | 19 May 18:00 | $100,000* |
| SCOOP-53-M: $55 NLHE [8-Max, Progressive KO, Win the Button], $300K Gtd | 19 May 18:00 | $300,000* |
| SCOOP-53-H: $530 NLHE [8-Max, Progressive KO, Win the Button], $1,000,000 Gtd | 19 May 18:00 | $1,000,000* |
| SCOOP-54-L: $22 NLHE [4-Max], $100K Gtd | 19 May 20:00 | $100,000* |
| SCOOP-54-M: $215 NLHE [4-Max], $250K Gtd | 19 May 20:00 | $250,000* |
| SCOOP-54-H: $2,100 NLHE [4-Max], $500K Gtd | 19 May 20:00 | $500,000* |
| SCOOP-55-L: $5.50 NLO8 [8-Max], $20K Gtd | 19 May 21:30 | $20,000* |
| SCOOP-55-M: $55 NLO8 [8-Max], $60K Gtd | 19 May 21:30 | $60,000* |
| SCOOP-55-H: $530 NLO8 [8-Max], $125K Gtd | 19 May 21:30 | $125,000* |
| SCOOP-56-L: $5.50 NLHE [Mini Sunday Kickoff SE], $50K Gtd | 20 May 13:00 | $50,000* |
| SCOOP-56-M: $55 NLHE [Sunday Kickoff SE], $175K Gtd | 20 May 13:00 | $175,000* |
| SCOOP-56-H: $530 NLHE, $400K Gtd | 20 May 13:00 | $400,000* |
| SCOOP-57-L: $22 NLHE [8-Max], $200K Gtd | 20 May 16:00 | $200,000* |
| SCOOP-57-M: $215 NLHE [8-Max, Sunday Warm-Up SE], $500K Gtd | 20 May 16:00 | $500,000* |
| SCOOP-57-H: $2,100 NLHE [8-Max], $1,000,000 Gtd | 20 May 16:00 | $1,000,000* |
| SCOOP-01-L: $2.20 NLHE [Phase 2], $150K Gtd | 20 May 17:30 | $150,000* |
| SCOOP-01-M: $22 NLHE [Phase 2], $1,000,000 Gtd | 20 May 17:30 | $1,000,000* |
| SCOOP-01-H: $215 NLHE [Phase 2], $1,500,000 Gtd | 20 May 17:30 | $1,500,000* |
| SCOOP-58-L: $109 NLHE [Main Event], $1,500,000 Gtd | 20 May 19:00 | $1,500,000* |
| SCOOP-58-M: $1,050 NLHE [Main Event], $4,000,000 Gtd | 20 May 19:00 | $4,000,000* |
| SCOOP-58-H: $10,300 NLHE [Main Event], $5,000,000 Gtd | 20 May 19:00 | $5,000,000* |
| SCOOP-59-L: $11 PLO8 [6-Max], $30K Gtd | 20 May 20:30 | $30,000* |
| SCOOP-59-M: $109 PLO8 [6-Max], $100K Gtd | 20 May 20:30 | $100,000* |
| SCOOP-59-H: $1,050 PLO8 [6-Max], $250K Gtd | 20 May 20:30 | $250,000* |
| SCOOP-60-L: $11 NLHE [Progressive KO, Turbo], $125K Gtd | 20 May 22:00 | $125,000* |
| SCOOP-60-M: $109 NLHE [Progressive KO, Turbo], $400K Gtd | 20 May 22:00 | $400,000* |
| SCOOP-60-H: $1,050 NLHE [Progressive KO, Turbo], $1,000,000 Gtd | 20 May 22:00 | $1,000,000* |
| SCOOP-61-L: $11 NLHE [8-Max, Progressive KO], $200K Gtd | 21 May 18:00 | $200,000* |
| SCOOP-61-M: $109 NLHE [8-Max, Progressive KO], $500K Gtd | 21 May 18:00 | $500,000* |
| SCOOP-61-H: $1,050 NLHE [8-Max, Progressive KO], $1,000,000 Gtd | 21 May 18:00 | $1,000,000* |