Safest Poker Sites Blog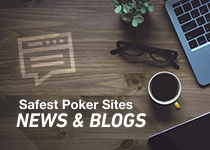 Safest Poker Sites provides the latest news and weekly updates in the poker industry.
Safest Poker Sites launched with the goal of educating online poker players. While our reviews help players know the ins and outs of specific sites, sometimes there is news that affects the industry as a whole or affects money deposited on a site. This is why we created the Safest Poker Sites blog.
The blog is maintained by John Mehaffey. He has 15 years of online poker experience. He has published news and other content for dozens of poker, casino and sports websites. John is a moderator at the Two Plus Two poker forum. This helps him have an eye on the action at all poker sites.
John's specialty is not limited to the online poker industry. He lives in Las Vegas. This gives him access to the latest poker and casino news in the country's largest gaming market.
Latest Blog Posts