Failed Poker Sites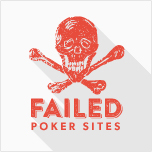 Most online poker rooms are safe. In those cases, the business is properly licensed and well-capitalized. Many are publicly traded companies with more than a decade of experience in the industry.
Unfortunately, there are poker sites that are not legitimate. These companies may not have launched with the intention of not paying players but it happens. These poorly managed poker sites or outright scams take deposits from players and in the end do not pay. Most disappear from the internet without a trace or comment. The following is a list of these failed poker sites.
The Graveyard
Dozens of poker sites have failed since the industry launched in the late 1990's. Most went out of business due to poor management. Some operated by known fraudsters with that seemed like the intent to steal money from poker players. A few of the sites on the list left the industry with honor. These businesses paid players in full during an orderly shuttering of the operations.
Why Some Online Poker Sites Fail
The lack of regulation in the industry has created situations where disreputable people and organizations were able to open an online poker site. This is due to illegitimate gaming commissions writing regulations where sites essentially pay an Internet Service Provider (ISP) a fee to host the site. These ISPs do little more than ensure that the site is live 24 hours a day. They do nothing to guarantee that funds are held in a secure account, nor do they punish criminals that steal deposits and winnings from players.
This scenario has played out too many times in the online poker world. Curacao may be the worst offender. It is the regulatory body that oversees Lock Poker, which owed over $15 million to players before it failed in April 2015. Cake Poker and Full Flush Poker are other sites that collapsed under the watch of Curacao regulators.
The Malta Lotteries and Gaming Authority (LGA) is another online gaming commission that has done nothing to help protect players, yet collected millions from sites it licensed. Everleaf Gaming, Stryyke, and Eurolinx are just a few examples of sites licensed by the LGA that ran off with player funds under its watch. It has never offered to reimburse victims with funds it made off taxes paid by these rogue sites.
Warning Signs that a Site is Failing
Failing sites often give many signals that there are problems with its liquidity. Late payments are the most obvious sign that the site is in trouble. There are usually several other red flags that appear leading up to that.
Sites in the early stages of a failure may offer an absurd deposit bonus. This could be reflected in terms that seem too good to be true. For example, a site offering a reload bonus that returns more than 100% rakeback could signify that the site is in dire need of cash.
The lack of timely responses from site employees is another signal that the site may be in trouble. If the site has a forum, or it has a thread at TwoPlusTwo.com, and player complaints are being ignored, then the site may have laid off its support staff. It may also be evidence that the site simply no longer cares about its players.
If live support used to be available 24 hours a day, but the site no longer answers these calls or chats, that is another sign that the poker room is no longer serious. Ignored emails can be another way to determine that the poker site does not care or is in trouble.
A drastic drop in traffic can be another sign of problems. Players that are not getting paid will stop giving action to a site. That is because it is a waste of time to give action to an online poker room that is not processing withdrawal requests. PokerScout.com charts the action of virtually every online poker room. This information can be used to help determine if a site is no longer profitable or if players are fleeing.
Safest Poker Sites publishes a weekly blog that covers the online poker industry. Make sure to check it out every weekend to see if conditions at your favorite poker sites have changed. We will always report if a site has stopped paying players or has experienced a major setback.
Concern About an Online Poker Site?
A poker site can be online and struggling at the same time. If support emails or cashouts are taking longer than usual, that may be a sign of trouble. Another issue to look for is whether the website gets updated in a timely manner. A poker site that shows promotions from months ago is certain to be having management issues. Tournaments that repeatedly have large overlay can be another sign of trouble. Poker sites cannot eat these types of losses for a long time. An attempt by a site to get you to reverse a withdrawal is another issue to look out for.
If you are experiencing trouble at a poker site, we would like to know. Please include all of the details of the problem.