Expert View of Sportsbetting Poker
Sportsbetting Poker is sister site to BetOnline.  It is an afterthought to the group's main business of offering sports betting and casino games.  The Sportsbetting poker room is on the Chico Poker Network. That is the third largest U.S.-facing online poker network.
Sportsbetting Poker gets above average ratings in terms of cashouts.  The Chico Poker Network's reputation has improved substantially in the past few years.  It is among our highly recommended poker sites.
More About Sportsbetting Poker
Sportsbetting Poker Summary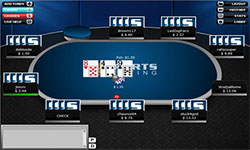 Sportsbetting Poker is on the Chico Poker Network.  BetOnline is the flagship of that platform.  Players may have accounts at both sites and take advantage of the 100% up to $2,500 first deposit bonus at each.  This is the best deal in U.S. online poker.
The games at Sportsbetting Poker are loose.  They are populated by sports bettors.  The lack of rakeback and VIP program seems to keep serious players away.  Punters looking for recreational games will want to check out Chico Poker.
Personal Opinion of Sportsbetting Poker
What we like about Sportsbetting Poker
The Chico Poker Network might be the home of the loosest online poker games.  This is especially true during football season.  There are no incentives to draw serious players to the network as that would hurt game conditions.  The bonus is the best available to U.S. players.  Players can get one free withdrawal per month if requested on a Friday.
What we do not like about Sportsbetting Poker
I prefer to play 6-max games.  There are very few of these tables. There is also little action away from No Limit Texas Hold'em. Bitcoin withdrawals come with a two percent fee if not requested on a Friday.  Most sites offer these for free.
What Players Are Saying About Sportsbetting Poker
There is little discussion about Sportsbetting Poker.  Most players on the Chico Poker Network use BetOnline. This is what those players have to say about it:

"Games are pretty soft, they have plenty of cashout options for Canadian players… I mean it could be worse right? "

"They just added poker on mobile. My first impression is it's pretty smooth. (only played 1 orbit). It has all games, Cash, Tournys and SnG's.

The one thing I found lacking is no setting for a four-color deck."

"Best microstakes freeroll MTTs I've ever found – hourly tournaments ranging from 10usd guaranteed to 100usd guaranteed. Awful software, though. And I have no idea how hard it is to cash out."
How Do I Download SportsBetting Poker Software?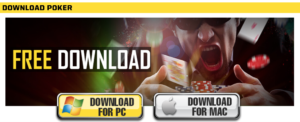 The best way to enjoy the poker experience at SportsBetting.ag is to use the SportsBetting Poker download. Available for PC or Mac, the download puts you at the center of all the action.
To get started, go to the Poker homepage and look for the Download for PC and Download for Mac tabs near the center of the page. Choose your appropriate option (here we will discuss the process for PC).
Once the PC download is complete, you will choose your language via a popup and then click the install button. You will be asked if you want to allow the app to make changes to your computer. Choose Yes. This will see the installation process continue.
Once the installation is complete, you will be ready to join SportsBetting Poker or sign in.If you are a new player, you will need to create an account and choose a username before you can gain access to the online poker lobby. Existing players can log in and then add their username to gain access to the lobby.
Why Should I Download Sportsbetting Poker?
The SportsBetting Poker software provides you with access to everything you need for real money gaming. With the download you are provided:
Simple Filtering: Use the lobby of the poker software to find the games you wish to play. Filter through game type, stake level, etc. Easily find cash games you wish to join without delay.
Tournaments: Use the tournament section to find event action including guaranteed events, freezeouts and more.
Quick Depositing: By installing SportsBetting Poker, you will have quick access to the cashier. Easily deposit funds to begin playing for real money. Reload anytime!
Free: The SP Poker software is completely free
Download SB Poker for Android
From the Mobile page at SportsBetting Poker, scan the QR code for your Android device. Once the download is complete, go to the downloads folder and choose the file, allowing the installation to begin. Android OS 6 or higher are required to run the software.
Sportsbetting Software Download for iOS
For iOS (Apple) operating systems, you can also scan a QR code to begin. Once you scan the code, you will then be able to begin playing instantly via browser. With an iPad device, an iPad 3 or higher is required. With iPhones, a device must be an iPhone 5 or higher to be compatible with gameplay.
Sportsbetting Poker Deposits and Withdrawals
Making a Deposit
Sportsbetting Poker accepts Visa, Mastercard, American Express, MoneyGram, checks, money orders and Western Union. There is also the ability to transfer money from certain sports books into Sportsbetting Poker.
Making a Withdrawal
Players may choose between Western Union, Bitcoin, bank wire and check.  Western Union times are less than a week, while wires and checks take about one month.  Bitcoin withdrawals are processed in about one day.  There is a $50 fee for checks and wires and cash transfers and a 2% fee for Bitcoin. Some players have bank wires available.
Players can receive one free withdrawal per month if requested on a Friday.  The maximum fee discount is $50.

Notable Payment Processors
Other Processors:
Money Order
Sportsbetting Poker Safety
An online poker room on the Chico Network, Sportsbetting Poker — like BetOnline — has turned itself around in recent years.
Based on its performance over the last few years, we conclude that Sportsbetting Poker is a safe and a reliable option. We don't love that the poker room gets neglected by comparison to the sportsbook, but as long as they are paying players in a timely manner, we won't get too upset about that.
Is Sportsbetting Legit?
There have previously been concerns about Sports Betting Poker's reliability but they have set a good example for long enough now that we can call them legit.
Sportsbetting Poker Bonuses
Sportsbetting Poker offers new players a 100% up to $2,500 first deposit bonus.  The bonus releases in $5 increments and expires after 90 days. Players can sign up at Sportsbetting.ag Poker to take advantage of this bonus.
The bonus requirements at Sportsbetting Poker are simple.  Players release $5 in bonus for every $15 in rake paid at tournaments and cash games.  This is equal to 33% rakeback.
Sportsbetting VIP Program
Sportsbetting Poker does not offer a VIP program.
Sportsbetting Poker Bad Bead Jackpot
There are some bad beat jackpot tables.  A player must lose at least quad jacks to trigger it.  Both the winning and losing hand must use both hole cards.  The losing hand wins 35% of the bad beat jackpot.  The winning hand receives 17.5%.  The rest of the players at the table split 17.5%.  The other 30% of the bad beat jackpot reseeds the next progressive.  Bad beat jackpot tables have an additional rake of $.10 for every $4 in the pot.  The maximum bad beat jackpot drop is $.50 per hand.
Sportsbetting Poker Game Selection
Most of the Sportsbetting Poker cash game action is found at No Limit Texas Hold'em.  Most of the action is found up to $1/$2 blinds.  The highest limit offered is $5/$10 with sparse action at these higher limits.
There are about 10 Pot Limit Omaha games at peak times.  This is about the same number as Pot Limit Omaha High/Low.  The highest Pot Limit Omaha blind offered is $2/$4.
One interesting aspect of the games at Sportsbetting Poker is that most of the action is at 10-seat full ring tables.  Most sites have virtually all of their action at 6-max tables.
Tournament action is limited at Sportsbetting Poker.  The highest buyin offered at multi-table tournaments is $99 for a Sunday event.  Sportsbetting Poker also spreads a $22 weekly Saturday and Sunday tournament with a $10,000 guaranteed prize pool.
Sit and gos only go as high as $108, though there are some higher heads up sit and gos.  Low limits like this are common for networks that cater to sports bettors.
One major selling point for Sportsbetting Poker is the loose games.  The Chico Network does not attract professional players and seems to go out of its way to discourage them from playing.  This helps keep the network free of sharks.
Games Offered
No Limit Hold'em
Fixed Limit Hold'em
Pot Limit Omaha
Pot Limit Omaha Hi/Lo
Stud
Other Games
0.01 / 0.02

0.02 / 0.04

0.05 / 0.10

0.10 / 0.25

0.25 / 0.50

0.50 / 1.00

1 / 2

2 / 4

3 / 6

4 / 8

5 / 10

0.05 / 0.10

0.10 / 0.25

0.25 / 0.50

0.50 / 1.00

1 / 2

1.50 / 3

0.01 / 0.02

0.05 / 0.10

0.10 / 0.25

0.25 / 0.50

0.50 / 1.00

1 / 2

1.50 / 3

2 / 4

3 / 6

4 / 8

5 / 10

0.05 / 0.10

0.10 / 0.25

0.25 / 0.50

0.50 / 1.00

1 / 2

1.50 / 3

2 / 4

0.10 / 0.20

1 / 2

2 / 4

Pot Limit Hold'em

Limit Omaha Hi/Lo

NL Americana

NL 32 Card Draw
Items in red bold represent limits that have games running. Limits are in $USD.
Has There Ever Been a Scandal at Sportsbetting Poker?
Sportsbetting Poker has never had a scandal, but the network has been the scene of quite a few of them.  All of those were more than five years ago and no longer relevant.  Sportsbetting Poker and BetOnline learned their lesson and are now highly respected in the online poker world.
Sportsbetting Sportsbook
Sportsbetting.ag uses the same sportsbook software and lines as BetOnline. The sites have a reputation for posting early lines and taking large action from experienced bettors and recreational ones.
This includes sports like NFL, NBA, MLB, NHL, NASCAR, golf, tennis, boxing, mixed martial arts, politics, entertainment and many NCAA events. Players may choose between straight wagers, parlays, teasers, props, and futures. Other sports less popular in the U.S. but active around the world offered by Sportsbetting.ag include cricket, darts, rugby, lacrosse, and e-sports on the menu include cricket. There is also live betting on major events. Wagers are accepted on the website or using a mobile app.
Sportsbetting.ag Sports Promotions
There are many promotions available to sports bettors at this site. New Bitcoin depositors receive a 100% up to $1,000 bonus. The bonus code is 2017BTC. The wager requirement is 14 times the deposit and bonus. There is a 75% up to $1,000 first deposit bonus with a 12 times wager requirement. The bonus code is NEW1000.
There is a reload bonus available to players on every subsequent deposit. The bonus code is FORLIFE. It has a six times wager requirement.
There are two free bet offers. One is a $25 free play on live betting. The other is a free $50 on mobile betting. Each is available to players making their first wager in that niche.
Sportsbetting Poker FAQ
What network is Sportsbetting Poker on?
Sportsbetting Poker is on the Chico Poker Network.
Is Sportsbetting Poker related to BetOnline?
Yes. The two poker sites are sisters.
What is the Sportsbetting Poker first deposit bonus?
New players receive a 100% up to $2,500 first deposit bonus.
How does the Sportsbetting Poker bonus clear?
Players receive 33% rakeback while clearing the bonus.  It is released in $5 increments.  The bonus expires after 90 days.
Does Sportsbetting Poker accept U.S. players?
Yes. Americans are welcome to play at Sportsbetting Poker.
Are there any banned states at Sportsbetting Poker?
No. Players from all states may join.
How does the bad beat jackpot at Sportsbetting Poker work?
A player must sit at a bad beat jackpot table to qualify. A player must lose at least four jacks. Both the winning and losing hands must use both hole cards.  The loser of the hand gets 35% of the bad beat jackpot.  The winning hand gets 17.5%.  The rest of the table splits 17.5%.  The other 30% goes into the next bad beat jackpot.
Is the SportsBetting Poker download free?
New players to SportsBetting Poker can rest assured that the download is absolutely free. All you need is a PC or Mac that meets download requirements and a little time to get started.
Can I download the SP Poker software to my Mac/PC?
The SportsBetting Poker Download can be accessed on both a PC and Mac device. Players simply choose the right tab associated with the operating system in use to get started with the poker download.
Is there a SportsBetting mobile poker app I can download?
At SportsBetting.ag, poker can be enjoyed via mobile device when on the go. Players can use either an Android device or Apple to access online poker wherever an internet connection is present. Both Android and Apple devices will need to scan a QR code to begin the download.
What should I do if there is a problem with the SportsBetting Poker download?
When downloading the SportsBetting Poker software, you should have no trouble getting started. However, if you do experience issues, customer support is here to help. You can contact the support team via email or choose to call directly via telephone at 1-888-843-9027. Live Chat is also an option, providing you with online help as you work through your download issues.
Reviewed by
John Mehaffey