Mastercard Poker Sites
Mastercard is one of the most popular credit and debit cards in the world.  All online poker sites accept Mastercard.  The use of Mastercard by American online poker players is restricted.
Mastercard does not allow its use for online gambling in the U.S. at sites that are not licensed and regulated by a state gaming commission.  This means that offshore sites violate Mastercard policy when processing U.S. deposits by this method.
SPS Approved Safest Online Poker Sites
Rank
Poker Room
Payment Grade
Bonus
Play Poker
MasterCard Summary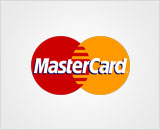 Regulated sites in Delaware, Nevada and New Jersey accept Mastercard in accordance with the bank's policy.  The deposit is processed as a cash advance if it is a credit transaction.  This means that a player will pay a cash advance fee on the transaction of a few percentage points.  Interest is charged immediately on the transaction.  A debit card deposit does not incur this fee as it is directly tied to a bank account.
Offshore sites that still accept Mastercard do not process them as a cash advance.  Instead, these deposits are miscoded.  This means that the poker site fools Mastercard into thinking the deposits are actually a purchase not related to poker.  The charge will show up on a statement as a bogus business and product.  Make sure that you do not mistake it for a fraudulent transaction.
All poker sites that accept credit cards from Americans have an authorization form that is required for a withdrawal.  This may include scanning the front and back of the card, as well as signing that you accept the charges.  This protects the site from players charging back after getting paid.
U.S.-facing poker sites are unable to process withdrawals back to a credit card.  In most cases, a check will be issued.  Some sites will mail a separate debit card that may have a Mastercard or Visa logo on it.  Players outside the U.S. may often have their deposits processed directly back to the card in question.
U.S. Poker Sites Accepting Mastercard
BetOnline is our favorite U.S. site that accepts Mastercard.  It is a sports book that spreads the third largest U.S. online poker site.  Since it is sports book based, it has some of the best online poker games in the world.
Prepaid Mastercard
Some bank issued Mastercards may not work at poker sites.  If that is the case, simply go to the closest store and purchase an international Mastercard debit card.  The mostly widely used brands are Green Dot and Netspend.  These must be purchased with cash at the store.  Online purchases may be made with a bank account.
Alternatives to Mastercard
If you are unable to get Mastercard to work, there are some alternatives.  Some sites accept Visa using a different processor.  Another idea is to use the Mastercard to deposit by Western Union or MoneyGram.  These are cash transfer services.  The deposit may be made online or over the phone.  Poker sites will usually pick up the fees on deposits of $300 or more.