Which State is the Favorite to Regulate Online Poker Next?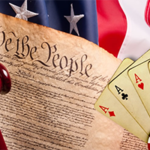 Three states have legal online poker.  Delaware, Nevada and New Jersey all regulate the activity.  All three states launched the fully legal games in 2013.  
It has been nearly four years since online poker has been legalized in any state.  It has not even gotten close.  Passing out of a California Assembly Committee is the only progress that has occurred in any state since 2013.  That may be changing in 2016.
Pennsylvania
Pennsylvania's 2017 budget is more than $2 billion short.  Online poker and casino taxes seem to be one way to help plug some of that gap without raising taxes.  Regulated online gaming could generate $40 to $50 million during fiscal year 2017 in Pennsylvania.  
Pennsylvania has been trying to legalize and regulated online poker and casino games since 2013.  It all started with Rep. Tina Davis.  She introduced a bill that would have regulated online gambling in the state.  State residents 21 years or older that were physically located in Pennsylvania would have been permitted to play.  That bill died and a similar one in 2014 also failed to even get a hearing in a committee.
Rep. John Payne introduced a bill in 2014 with one change from the one introduced by Rep. Davis.  Rep. Payne's bill permitted all players 21 years of age and older to play, regardless of residency.  A future bill sponsored by Rep. Davis also removed this residency requirement.  
In 2015, Rep. Davis and Rep. Payne brought back bills.  Rep. Nick Miccarelli also filed one.  All are the same except for tax rates and licensing fees.  
Committee hearings are expected in 2017 for these bills.  Payne is the chairman of the Pennsylvania House Committee of Gaming Oversight.  Davis is a member of that committee.  Any movement on these bills would originate from this committee.  
Most casino interests are behind a Pennsylvania online poker bill.  The only exception is Sands Bethlehem.  Las Vegas Sands, its parent company, is not interested in the online gaming business and does not want its competitors to have access to it.  Las Vegas Sands also claims a moral objection to online gambling, even though its Las Vegas casinos offer mobile betting in Nevada through its partner sportsbooks.
There is constant interest in regulating online gambling in Pennsylvania.  This is why it is the favorite to become the next state to legalize online gaming.
California
California once seemed to be the next state that was going to legalize online gambling.  It does not appear that California will ever legalize online gambling.  
There are two major groups in opposition as to what companies should be permitted into the potential California online poker market.  
There is a PokerStars Coalition.  This includes PokerStars, Morongo Tribe, Bicycle Casino, Commerce Casino and Hawaiian Gardens.  This group feels that companies that stayed in the U.S. after the Unlawful Internet Gambling Enforcement Act of 2006 (UIGEA) should be permitted into the market.  They also have no negative position as to whether horseracing should play a part.  They agree that card clubs and tribal gaming interests should be able to offer online poker in California.
A coalition of tribes led by Pechanga feel that PokerStars and other companies that stayed in the U.S. after UIGEA should not be permitted in California.  This group also has objections over racetracks participating in the market.  
Most other groups have no opinion on the matter of whether tribes or companies that accepted California players should gain access to California online poker.  The lack of consensus among the major stakeholders is a key reason as to why online poker has stalled in California.
Other States with Past Bills
A bill was introduced to offer online poker in New York in 2014 and 2015.  It did not leave committee either year.  A bill in New York passed one house in 2017 but eventually died.
A bill in Iowa passed the state senate in 2013.  It failed in the Assembly that year.  Similar bills have not made it out of committee since.  
A bill in Mississippi that would have legalized online gambling has never received a committee hearing.  It was filed every year since 2013.  Bills in Hawaii have been introduced since 2008.  None of the Hawaii bills have ever gone anywhere.  
A bill was filed in Washington state in 2015.  It was declared dead three weeks later.  It is currently a class C felony to even play online poker in Washington state and there does not seem to be any interest in changing that.  
It seems that Pennsylvania will become the next state to legalize online poker.  There is no clear second favorite.  For now, residents in these states must give action to offshore sites.