Chico Poker Network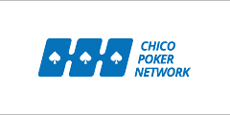 The Chico Poker Network consists of BetOnline, Sportsbetting Poker and a number of skins that do not accept US players. BetOnline and Sportsbetting Poker have the same owners; while most of their other skins have different owners.
Recent efforts by BetOnline to improve its site have worked. There were far fewer complaints in 2014 than in previous years. The site has virtually zero complaints in 2016 according to PokerScout.  This year has been completely flawless for BetOnline and other Chico Poker Network skins.
SPS Approved Safest Online Poker Sites
Rank
Poker Room
Payment Grade
Bonus
Play Poker
Action Poker Network
The network was once known as the Action Poker Network. The flagship of the network at the time was Action Poker, though it appears that title now belongs to BetOnline. The network was plagued with cashout issues long before BetOnline joined the network. Players waited as long as six months to receive their payouts. Most affiliates got stiffed. New management eventually made affiliates offers to pay their balances for about 25% of the balance owed.
BetOnline Secretly Joins Network
BetOnline quietly launched their new poker skin on Action Poker. The network was otherwise not US friendly. Due to this reason, BetOnline claimed they were actually on a network they referred to as the Hero Poker Network, not to be confused with the former Merge Gaming skin Hero Poker. This claim was quickly proved to be false.
BetOnline went so far as to give their software the appearance of not being the same as Action Poker's platform. This included the ability for players to log into Action Poker and BetOnline at the same time. This presented a huge security flaw as players outside the US had the ability to sit in two seats at the same table.
Past Chico Poker Issues
There was a time that winning players got harassed. This occurred in 2011 and 2012. This appears to no longer be an issue, as we have seen no recent complaints. BetOnline has been promptly paying winning players without any hassle for years now.  We now recommend choosing BetOnline Poker.