Binion's Poker Room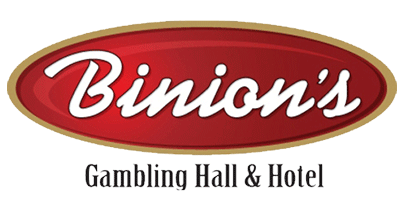 128 Fremont St.
702-382-1600
General Info
Other Casino Features:
Offers no hotel, 3-2 blackjack, or decent video poker. Try Downtown Grand or Plaza for gaming other than poker.
Pros & Cons
Will validate parking with play
$2 an hour comps
Cheap poker hotel rate available
All games 1/2 No Limit Hold'em
Often only one table or totally dark
New location is loud and smoky
Binion's may be the best known poker room in downtown Las Vegas.  It is where the World Series of Poker started in 1970.  The first winner was declared by a secret ballot.  From there, players won events by holding all of the chips at the end.  The $10,000 main event was held every year in the modern era.  As time went by, smaller events and non-hold'em games were added.
The World Series of Poker left Binion's after the 2004 series.  This was because Harrah's Entertainment, now known as Caesars Entertainment, bought Binion's Horseshoe after it was shut down by the government for not paying employee benefits.  The final two days of the $10,000 Main Event were held downtown in 2005, with the rest of the series played at Rio, its current home.
Binion's has fallen far from its previous prestigious level.  The poker room that was once the home to Las Vegas poker now spreads just four cash game tables.  A separate 25-table tournament area is available in the area of what was once the hotel lobby.  The old poker room serves as home to the Saturday tournament. Binion's is lucky to have more than one cash game at a time these days.
Binions Casino and Poker Room Photos
Binion's Cash Games
There is one cash game at Binion's.  It is a $1/$2 No Limit Texas Hold'em game.  The no limit game has a $100 buyin with no cap.  This makes the no limit games play very deep.
Binion's Poker Tournaments
There are two daily No Limit Texas Hold'em tournaments.  At 1pm Sunday through Friday, there is an $80 tournament.  The house takes $20 of this buyin as an admin fee.  Players start with 15,000 chips and levels are 20 minutes.  On Saturdays, it is a $160 tournament with 20,000 chips and 30 minute levels.  The house takes $35 of this buyin.  The Saturday tournament has a $10,000 guaranteed prize pool.
There is a nightly tournament at 7pm with a $55 buyin.  The house keeps $15 of this buyin as an admin fee.  It has 5,000 starting chips and guarantees a $500 first place prize if five players make the field.  Players receive 3,000 more chips for a $10 add-on.  There is also a $10 add-on after the first hour. Levels are 15 minutes.
Late registration and reentries are permitted during the first four levels for all events.
Binions Texas Hold'em Poker Tip
Saturday's at the Binions Poker Room hosts many different tournaments, take advantage of the low buy-ins and high prize pools.
Binion's Poker Jam
Binion's replaced the World Series of Poker with the summer series known as the Binion's Classic.  It later became known as the Binion's Poker Jam. It is held in the tournament area in the rear of the casino.  Most events are No Limit Texas Hold'em.  There are a handful of Omaha. Omaha High/Low, Seven Card Stud and mixed game tournaments.  Buy-ins generally start around $150.  The largest event is a $1,000+$100.
Binion's Poker Promotions
All players that clock in with their Binion's players card receive $2 an hour in comps.  These may be used for food or hotel.  Binion's pays high hands 24 hours a day.  The standard payouts are:

Four of a kind: $50
Straight flush: $100
Players must have a pocket pair for four of a kind.  Straight flushes and royal flushes require the player to use both hole cards.  Payouts are doubled during these hours:

Payouts are tripled from 10am to 1pm
Active players receive an hourly rate returned each month in cash based on the following rates:

30 hours: $150
40 hours: $250
Binion's offers all poker players a discounted rate for hotel rooms.  No minimum number of hours is required for this discount.  Weeknights are $25, while weekends are $54.  There is no resort fee. The hotel at Binion's is closed.  Guests stay at 4Queens, a sister property of Binion's.
Environment
Binion's is an old school poker room.  The dealers are expert and flawless.  The same goes for the floor people.  The poker room is now on the casino floor by the table game pit.  The biggest problem with this room is that the games are incredibly tight due to the its hourly promotions.  This attracts local nits. Noise and smoke from the casino and sportsbook may also be a bother to players.
Food Options
A café and barbecue joint are near the poker room.  There is also a deli near the old poker room. The high end option is the steakhouse, located on the 25th floor of the hotel tower.
Binion's Poker Room Opinion
What I like about the Binion's poker room
Binion's is a place that every player should visit at least once.   It is a classic poker experience spread with an old school mentality.  The Binion's Poker Jam may be the best run tournament series in Las Vegas. Binion's will validate poker players' parking.
What I don't like about the Binion's poker room
Our biggest problem with this room is the poor quality of games, which get marginally better during the evening hours.
Binion's Poker Room FAQ
What cash games are spread at the Binion's poker room?
The main cash games at Binions is their $1/$2 No Limit Texas Hold'em games.
How many cash games typically run at night at Binion's?
Binion's typically has two to three cash games each night.
What is the Rake at Binions Poker Room?
Binion rakes 10% up to $4 in all cash games.
Does Binion's spread poker tournaments?
Yes. There are two daily tournaments, one at 1PM from Sunday through Friday and a nightly tournament at 7PM all week. The buy-ins range from $55 up to $160, with a Staurday tournament with $10,000 guaranteed prize pool.
Do players earn comps while playing poker at Binion's?
Yes. Players with the Binion's players card earn $2 an hour in comps.