Eastside Cannery Poker Room
The information below is for historical informational purposes only.  Eastside Cannery closed its poker room in May 2016.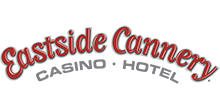 Eastside Cannery is a small locals casino on Boulder Highway. It is about five miles east of the Las Vegas Strip. It is the sister casino of Cannery, located in North Las Vegas.
The poker room at Eastside Cannery is very small. It spreads just four tables. It is not really a room either. These poker tables are located in the middle of the casino floor. A passerby might even have to look closely to realize it is poker being dealt at the tables. They tend to look just like the table game pit located next to it. The poker podium looks just like the ones pit bosses use.
Eastside Cannery Cash Games
There is only one regular game at the Eastside Cannery. It is a $2/$4 limit game with a $6 big river bet. The blinds are $1/$2 in it. The game starts around 9am and runs until late evening. The poker room advertises a weekend $1/$2 No Limit Hold'em game. The buyin range is $60-$300.
Eastside Cannery Poker Rake
The rake at Eastside Cannery is 10% up to $3 in all cash games.
Eastside Cannery Poker Tournaments
There are three tournaments each week at Eastside Cannery. On Tuesday at 6pm, there is a $35+$10 Omaha High/Low tournament. This is an interesting game to find in a room that otherwise never spreads it as a cash game.
At 7pm on Friday, there is $16+$9 No Limit Hold'em tournament. At 7pm on Saturday, there is a $35+$10 No Limit Hold'em event. All tournaments offer a staff appreciation bonus of $3 or $5 for more chips.
There is a $40+$10 No Limit Hold'em tournament on the second and fourth Thursday of the month. There is a $100 bounty on the poker room manager in this tournament. A ladies-only tournament is spread on the first and third Tuesday each month.
Eastside Cannery Poker Promotions
Players that lose with pocket aces during the following times win double the pot in prizes:
2pm-5pm daily
7pm-10pm daily
11pm-1am on Friday and Saturday
A player that loses with pocket aces four times in a month wins either $100 in table game chips or a free entry into a $45 tournament. Players that make a royal flush using both hole cards will win $100. Players earn $1 per hour in comps. Those that give four hours of cash game action receive an additional $5 in comps. An additional two hours of daily action wins $5 more in comps.  These comps may be used at any food outlet.
Players that give at least 20 hours of action receive a seat in the monthly $3,000 hourly. The first 40 qualifying players will be entered.
Environment
The Eastside Cannery's poker room is nothing special. It is not a room at all. The tables offer automatic shufflers. One major annoyance is the smoke from the nearby slots and table game pit.
The place is a break-in joint for dealers. The only people in the games are low-rolling locals. It is a great place to pass a day for a local that lives in the area, but tourists will not need to take a drive over to see it.
Eastside Cannery Poker Room Opinion
If we lived in the area then there would be a reason to play here. Even then, Sam's Town is right next door, where more cash games and bigger tournaments are available. Those in the area that only have these two rooms available may want to check out both.