Excalibur Poker Room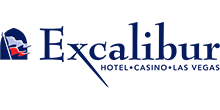 3850 S. Las Vegas Blvd
702-597-7625
General Info
Other Casino Features:
Food court is great deal for frugal poker players.
Pros & Cons
Low limit games spread 24/7
Good promotions
Surrounded by slot machines, making it noisy and smoky
Jackpot drop can be $2
All low limit action
$5 rake and $1 jackpot drop
The Excalibur is an MGM Resorts property. It is located on the southwest corner of Las Vegas Blvd and Tropicana Avenue. It offers a medieval theme with a castle design.
Excalibur offers 10 poker tables. These are located on the casino floor by the parking deck entrance a short walk from the sports book.
A 2008 experiment brought PokerPro electronic tables to Excalibur. This was a first for Las Vegas. These electronic devices were short lived. Dealers were laid off and sympathetic floor men did a poor job managing the room.  Live dealers were brought back in 2009. These electronic PokerPro tables are now available at Plaza Las Vegas and Aliante Casino.
Excalibur Casino and Poker Room Photos
Excalibur Cash Games
There is a regular $1/$2 No Limit Texas Hold'em game. The buyin range is $60-$300. The other common cash game is $2-$6 Spread Limit Hold'em. This game has a single $2 blind and allows players to raise up to $6 at any time.
Excalibur Poker Tournaments
Excalibur spreads four daily No Limit Texas Hold'em tournaments. There is a $29+$11 tournament at 9am daily. At 1pm, 5pm, and 8pm, there is a $32+$13 tournament. All start with 5,000 chips at the 25/50 level. Blinds increase every 15 minutes.
Excalibur Poker Promotions
Players that lose pocket aces spin a wheel that reveals a prize. Quad deuces pay $222, while a royal flush pays $555. There is also a bad beat jackpot that hits when players lose aces full of twos or better.
Players receive $1 an hour in comps. These may be used anywhere at Luxor or Excalibur, including the buffet and food court.
Excalibur drops an additional $1 in jackpot rake to cover these promotions.  Players that give at least five hours a day in action receive 25% off the standard hotel rate.
Environment
The Excalibur poker room is located on the casino floor. It is not really a room, just an area. It is noisy and smoky compared to other Las Vegas poker rooms.
Dealers are experienced here. The tables and chairs are of average condition. All tables have an automatic shuffler. The Bravo Poker system is used to clock players in and manage waitlists. The Bravo Poker app may be used to see available games.
Food Options
Excalibur offers one of the largest food courts in Las Vegas. Players can enjoy a wide variety of quick serve options, including many big fast food names. There is also Mexican and Chinese food available. Excalibur also offers a buffet. A high end steakhouse and Italian restaurant are also available.
Excalibur Opinion
What We like about Excalibur
There is nothing wrong with the Excalibur poker room. There is also nothing special about it. It is an average room that spreads low limit Texas Hold'em games. It should be adequate for most poker players.
What We do not like about Excalibur
One major drawback of Excalibur is that there is a charge for parking. The poker room will not validate. The only way to get free parking at Excalibur's poker room is to play 75 hours in a year and achieve the Peal tier in the MLife program.
Excalibur Poker Room FAQ
What cash games are spread at the Excalibur poker room?
Excalibur spreads $1/$2 No Limit Texas Hold'em games.
How many cash games typically run at night at Excalibur?
Excalibur offers only one cash game during the nights at their 10 tables.
What is the Rake at Excalibur Poker Room?
There is a 10% up to $5 rake at all cash games.
Does Excalibur spread poker tournaments?
Yes. Excalibur offers four daily No Limit Texas Hold'em tournaments. They begin at 9am, 1pm, 5pm, and 8pm.
Do players earn comps while playing poker at Excalibur?
Yes. Players receive $1 an hour in comps. These may be used anywhere at Luxor or Excalibur.