Plaza Las Vegas Poker Room
The Plaza poker room closed in March 2016. The information below is for historical purposes.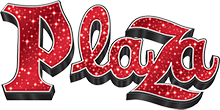 Plaza Las Vegas is located downtown at the intersection of Fremont Street and Main Street.  It is owned by Tamares Group.  It was once known for spreading Pan.  It was the last place in Las Vegas to play the game.  It was also a popular poker room for late night tournaments with great structures.  The original poker room closed in 2009.  It was relocated several times within the casino as it shed tables before being shuttered during the $35 million Plaza remodel.
In June 2013, the poker room reopened.  It was not a traditional poker room.  Instead of standard poker tables, it uses PokerPro electronic ones.  This was the first time PokerPro tables had been used in Las Vegas since 2009 when Excalibur tried to convert its standard poker room into an electronic one.  That experiment failed and Excalibur reverted back to the traditional card room format within a few months.
It opened with three of these tables in the casino's high limit area.  The room was moved and two tables were added in 2014 due to the room's success.  It is a popular room for low limit tournaments and cash games that are not possible in places that use live dealers.
Common Plaza Las Vegas Cash Games
The most popular cash game at Plaza Las Vegas is $.25/$.50 No Limit Texas Hold'em.  Those limits are also available in Pot Limit Omaha and Pot Limit Omaha High/Low.  Plaza will spread any Hold'em, Omaha, Omaha High/Low, Seven Card Stud or Seven Card Stud High/Low game.
Plaza Poker Tournaments
Plaza offers four daily No Limit Texas Hold'em tournaments:
10am: $3 buyin with $100 guarantee
2pm: $12 entry with $100 guarantee
7pm: $5 entry with $200 guarantee
10pm: $12 entry with $100 guarantee
The entry fee is the rake held by the house in the above tournaments.  All rebuys and reentries go directly into the prize pool.  There is also a $34 buyin event every Thursday at 9pm.  It offers a $500 guaranteed prize pool.  This tournament offers reentry.
Rake
The house takes 10% up to $3 for rake.
Promotions
Plaza Las Vegas offers high hand bonuses every 30 minutes Thursday through Sunday between 5pm and 7pm.  There are five cash drawings per day for cash game players.  This is funded by a $1 jackpot drop.  The house promotional pool is funded $.50 at $10 and another $.50 at $20 from cash game tables.  Tournaments do not qualify for promotions.  Plaza does not pay an hourly rate for comps to cash game players.  There is no hotel rate for poker players.
Environment
The poker room at Plaza is a little smoky due to its close proximity to the casino floor.  It is also a bit noisy for this reason, especially when a band is playing in the nearby lounge.  Most of the players in the room are friendly low rollers looking for a fun poker night.  This could be the friendliest poker room in town.
Food Options
Plaza offers a food court with a Subway, McDonald's, and Zaba's Mexican Grill.  There is also a Pop Up Pizza, which sells some of the best slices in Las Vegas.  All of these options are affordable and quick.  There is also a Hash Hash a Go Go for casual dining and Oscar's for an upscale steakhouse experience.
PokerPro Table Procedure
Buying into a game on a PokerPro table is different than a traditional one.  Players must create an account to enter a cash game.  A players card is issued and loaded with cash paid to the house.  The player inserts the card into the machine and chooses the amount of cash to load within the table limits.  Players may receive cash once when they leave or keep the funds on the card for a future use.
Tournament players are assigned a generic card assigned to their seat that automatically enters them into the event.
Plaza Poker Room Opinion
The electronic tables are not replacing live games.  These are great for low limit fun and specialized games like Pot Limit Omaha and Pot Limit Omaha High/Low.  The crowd is friendly and the room management makes sure that all players are having fun.  The Plaza poker room is about as recreational as it gets in Las Vegas and we recommend checking it out if you are looking for a fun low limit night of poker downtown.