Red Rock Poker Room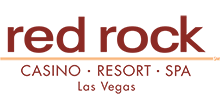 11011 W. Charleston Ave
702-797-7766
General Info
Other Casino Features:
Great blackjack rules, 100% video poker and a massive sportsbook are among the other amenities.
Pros & Cons
Lots of action for a locals casino
Wide variety of fixed limit and no limit games
Rake is only $4
Floor staff known to favor regulars on rulings
Games can be tight
Red Rock Resort is located in the Las Vegas suburb of Summerlin.  It is a luxury resort comparable to some of the best on the Las Vegas Strip.  It is surrounded by some of the most expensive housing in the Las Vegas Valley.  This gives the room a lot of cash infused into it from the affluent local players.  Red Rock spreads 20 poker tables.
Red Rock Casino and Poker Room Photos
Red Rock Cash Games
Red Rock spreads four standard games.  The most popular are $2/$4 and $4/$8 Limit Hold'em.  There is also a regular $1/$2 No Limit Texas Hold'em game with buyins of $100-$300.  Players will find a $2/$5 no limit game on nights and weekends.  Players can buy into this game with $300-$1,000.
Wide variety of Cash Poker Games
There is a $5/$10 no limit game on Friday nights.  The buyin range is $500-$3,000 for this.  Red Rock's $5/$10 No Limit Texas Hold'em game is the largest in the valley found away from the Las Vegas Strip.
A $4/$8 Omaha High/Low game is available most days.  It is a half-kill game that triggers when a pot of $60 or more is scooped by one player.  The winning player in a kill pot must post $6 for the next hand.  Limits go up to $6/$12 during a kill hand.
Red Rock spreads cash game action 24 hours a day most nearly 365 days a year.  There may be a rare weeknight in the offseason where all games break before the morning tournament starts.
Red Rock Poker Tournaments
Red Rock spreads two poker tournaments Sunday through Thursday and just one on Friday and Saturday.  All tournaments are No Limit Texas Hold'em.
Monday through Friday at noon, there is a $60 tournament.  Players start with 7,000 chips and may add 1,000 more for a $5 dealer toke.  Levels are 30 minutes.  This tournament is also available on Sundays, Tuesdays and Wednesdays at 6:30pm.
On Sunday at noon, there is a $110+$15 tournament. There is an additional $10 staff bonus.
On Mondays and Thursdays at 6:30pm, there is an $83+$17 bounty tournament.  The bounty is $25.  There is also a $10 staff bonus.  The guarantee is $3,500.
Red Rock Poker Promotions
There is a Texas Hold'em bad beat jackpot that starts at four aces losing and goes down one hand daily until it is hit.  The losing hand wins $40,000.  The hand that beats it wins $20,000.  Every other player at the table wins $1,000.  Both hands must use both hole cards.  Quads require a pocket pair.  On Tuesday and Saturday, players win $500 when flopping quads with a pocket pair.
Omaha players also have a bad beat jackpot.  Players must lose quad jacks or better to release it.
Comp Points
Players earn $1 an hour in comps.  These may be used at food outlets, the gift shop, and at the hotel.  There is a food court with Starbucks, Ben & Jerry's, Villa Pizza, Rubio's, Tropical Smoothie King, Capriotti's, Fatburger, and Panda Express.  There is also a hot dog stand connected to the poker room.
Points used at the buffet receive up to a 50% discount, depending on the player's tier.  A café that is open 24 hours is available.  It offers a great graveyard menu with deep discounts on breakfast items.
Environment
Red Rock offers a luxurious environment.  The tables and chairs are in great shape.  Restrooms are located within the poker room, a rare amenity in Las Vegas.
The dealers are above average during most shifts.  Many have been at the property since it opened in 2006.  There are some problems with favoritism towards regulars.  The room is very cliquish.
The poker room is located right next door to the sports book.  This can make it noisy during big games.  Players can check into a game by phone or through the kiosks located just outside of the room.  The Bravo Poker system is used to manage cash game waitlists and hourly comps.
Red Rock Poker Room Opinion
What We like about ROOM
The room is above average in terms of game quality and employees.
What We do not like about ROOM
Red Rock is known in the poker circles as being a place that gives hometown rulings in floor decisions.  It is troubling as many players are friends and talk too much at the table while cards are in play.  Players may want to consider this when deciding to play there.
Red Rock Poker Room FAQ
What cash games are spread at the Red Rock poker room?
Red Rock spreads a variety of cash games, including: $2/$4 and $4/$8 Limit Hold'em, $1/$2 No Limit Texas Hold'em, and $4/$8 Omaha High/Low.
How many cash games typically run at night at Red Rock?
Red Rock usually has four to eight cash games running each night.
What is the Rake at Red Rock Poker Room?
The rake at Red Rock is 10% up to $4. The poker room tried to raise it to $5 in 2009. Player protests convinced the room to change its mind and it reverted back to $4.
Does Red Rock spread poker tournaments?
Yes. There are two daily poker tournaments spread at Red Rock from Sunday – Thursday, and one on Fridays and Saturdays.
Do players earn comps while playing poker at Red Rock?
Yes. Players earn $1 an hour in comps.