Sam's Town Poker Room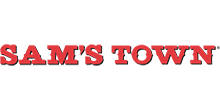 5111 Boulder Highway
702-456-7777
General Info
Other Casino Features:
Sam's Town offers one of the largest sportsbooks in the locals market.
Pros & Cons
Only low limit Stud Hi game in town
Regular low limit Hold'em and Omaha Hi/Lo action
Great tournaments
High tournament rake
Doesn't run 24 hours
Sam's Town is owned by Boyd Gaming.  It is located on Boulder Highway between the Eastside Cannery and Boulder Station.  The casino is a throwback to an older era.  It has the feel of a downtown Las Vegas casino.  The 11-table poker room is no different.
Sam's Town Casino and Poker Room Photos
Sam's Town Cash Games
There are three normal cash games.  The regular game is $2-$6 Spread Limit Hold'em with a $1 and $2 blind.  Players may wager $2 to $6 at any time. There may also be a $1/$2 No Limit Hold'em game during peak hours.
Omaha High/Low is spread with $3/$6 limits three days a week.  Omaha is available on Monday, Thursday, and Saturday. A $1-$5 Spread Limit Seven Card Stud game runs on Saturday mornings.
Sam's Town Poker Tournaments
There are three daily tournaments.
The 10am tournament is $14+$9.  It starts out as Fixed Limit Hold'em for the first hour, and then moves to no limit.
At 1pm, there is a $20+$10 no limit tournament with a $10 rebuy.
At 7pm Sunday-Thursday there is a $28+$7 no limit tournament.  On Friday, the 7pm tournament is $18+$7.  On Saturday, it is a deep stack that is $45+$10.  This tournament has a $25 bounty on the second and fourth Saturday of the month.
All tournaments include a $5 staff add-on.  Players that register at least 30 minutes in advance receive extra chips.
Sam's Town Poker Promotions
Sam's Town offers Aces Cracked on Mondays and Thursdays after 4pm and in the overnight hours.  Players that lose pocket aces win $100.  Players that flop quad aces with a pocket pair win $1,000.
High Hand Promotions
There are a variety of high hand promotions that change daily and monthly.  A $1 jackpot drop is taken from Hold'em games to fund promotions.  There are no promotions for Omaha or Seven Card Stud games so no jackpot drop is taken.
Gameplay Promotions
Players that give at least 52 hours of action in a month qualify for a card drawing.  The first 52 players to reach this during the month will qualify.
Players that qualify for this promotion will draw a card from a deck of cards.  An ace drawn pays $250.  A face card pays $125.  All other cards pay $75.  These prizes are paid in cash.
$5 Vouchers
Players that give four hours of cash game action receive a $5 voucher.  This may be used for the poker player special at the deli or used as a $5 discount at any other food outlet.
Environment
The Sam's Town poker room has two walls.  It is located in the corner of the casino by the parking deck.  Smoke is not a concern because the area around it on the casino floor is smoke free.
The casino and poker room are rather quiet.  The clientele is an older group, mostly retirees from the area.  Most of the poker room employees have been around for decades and are on a first name basis with most players.
Tables used for cash games have automatic shufflers.  Tournament tables use hand shufflers if enough players sign up.  The tables and chairs are in average shape.  Sam's Town does not use the Bravo Poker system.  All player waitlists are tracked with pen and paper.
Sam's Town Poker Room Opinion
What We like about Sam's Town
The poker room at Sam's Town is fine for locals along the Boulder Strip looking for a low limit games.  It is also the only place to find a Seven Card Stud High game that is not high limit.  The Omaha High/Low game there is fun.  The games are mostly tight, but it may be worth the trip to see how an old school poker room is run.
What We do not like about Sam's Town
Their tournaments do have a high rake, so if you are looking for poker action, stick to the cash games.
Sam's Town Poker Room FAQ
What cash games are spread at the Sam's Town poker room?
Sam's Town spreads $2-$6 Spread Limit Hold'em, $1/$2 No Limit Hold'em, $3/$6 Omaha High/Low, and $1-$5 Spread Limit Seven Card Stud.
How many cash games typically run at night at Sam's Town?
Sam's Town usually has three cash games running each night.
What is the Rake at Sam's Town Poker Room?
Sam's Town rakes 10% up to $4 in all cash games.
Does Sam's Town spread poker tournaments?
Yes. There are three daily poker tournaments spread at Sam's Town. These start at 10am ($23 buy-in), 1pm ($30 buy-in), and at 7pm ($25 buy-in).
Do players earn comps while playing poker at Sam's Town?
No. While players do not receive comp points, they still get offered amazing promotions and cash vouchers.