Suncoast Poker Room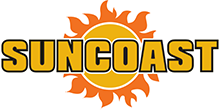 9090 Alta Dr.
702-636-7111
General Info
Other Casino Features:
Salvatore's is an underrated restaurant that is popular among locals.
Pros & Cons
$3 rake
Las Vegas home for Seven Card Stud Hi/Lo
Friendly, experienced staff
Some games have $2 jackpot drop
Often none or one game
Players are usually tight
Suncoast is a poker room located in the Summerlin section of Las Vegas on the far west side. This is an affluent area that has a disproportionate percentage of retirees due to the Sun City section of the development, which is a 55+ community.
The Suncoast Casino is owned by Boyd Gaming. It spreads 10 tables.
Suncoast Casino and Poker Room Photos
Suncoast Cash Games
The action at Suncoast is only available 12-18 hours a day. It is extremely rare for the room to have games run all night.
The most common game is $2/$4 Limit Hold'em. There is a $4/$8 limit game during busy periods. Sometimes there is a compromise and the game becomes $3/$6 with a kill that makes the game $5/$10.
Seven Card Stud at Suncoast
Suncoast is the home for Seven Card Stud High/Low in Las Vegas. There is a $4/$8 game of it three days a week. On Monday and Friday, the Seven Card Split game is $2-$10 spread limit with a $20 max bet on the river. This game is called "Hoggie" and has some unusual rules. The high card brings in. The high hand must be at least a pair of jacks. The low must be 8 or better. If one side does not qualify, the other side wins the entire pot. If a player scoops a $100 pot, there is a $10 kill blind posted.  This game has been played in Las Vegas since the 60's, moving from room to room throughout the valley.
There is a $2/$5 No Limit Hold'em game on Monday nights. This game has a required $25 button straddle and allows buyins of $1,000 to $3,000. There may be a $1/$2 no limit game on weekends with $50-$300 buyins, but this is very rare.
Suncoast Poker Tournaments
Suncoast spreads two tournaments each day. They are at 10am and 7pm. The buyin is $45 with $30 going into the prize pool. All but one of the tournaments each week has a $20 add-on. Players start with 4,000 in chips. The add-on gives another 4,000 in chips. The 7pm Monday tournament drops the add-on and instead offers a $20 bounty, making the buyin $65. Players that register at least five minutes before the tournament starts receive 1,000 extra chips.
Suncoast Poker Promotions
Texas Hold'em players can win high hand bonuses for making four of a kind or better. Every quad hand has a separate jackpot and requires a pocket pair. Straight and royal flushes are divided up into suits. Texas Hold'em games take a $1 promotional drop to cover this. Seven Card Stud and Omaha games do not have a jackpot, nor do they take the promotional rake.
All players receive $1.25 an hour when clocked in with the BConnected players card offered by Boyd Gaming. These comps may be used at any food option or gift shop located at any Boyd Gaming property. Players that give at least four hours of action in a day receive a 20% discount off the hotel.
Environment
The Suncoast poker room is rather plain. The tables are reasonably comfortable. The tables all have automatic shufflers. The dealers are all very experienced and work together as a team. The staff helps make this room. Most of the players are retirees of various levels of ability. The games are often more on the tight side compared to most other poker rooms.
The Suncoast poker room does not use the Bravo Poker system. All waitlists are tracked on paper. Players may call into the room to get on lists.
Suncoast Poker Room Personal Opinion
What We like about Suncoast
The staff and the $3 max rake are two great reasons to play at Suncoast. Seven Card Stud Split players will also want to check it out. The Monday night $2/$5 game is one of the craziest in the city. It plays like a deep stacked home game. You will want to check out the Suncoast poker room if you live in that part of the city or are visiting Las Vegas with a car.
What We do not like about Suncoast
They run their poker games on a schedule, closing the tables for a few hours each day.
Suncoast Poker Room FAQ
What cash games are spread at the Suncoast poker room?
Suncoast spreads $2/$4 and $4/$8 Limit Hold'em, $4/$8 Seven Card Stud High/Low, $2-$10 Seven Card Split and $2/$5 No Limit Hold'em cash games.
How many cash games typically run at night at Suncoast?
Suncoast usually has three cash games running each night.
What is the Rake at Suncoast Poker Room?
Suncoast has the best rake in town. It takes 10% up to $3. The Orleans is the only other major poker room with this great rake structure. A couple of other locals poker rooms on Boulder Highway also offer a rake cap of $3.
Does Suncoast spread poker tournaments?
Yes. There are two daily poker tournaments spread at Suncoast. These start at 10am and 7pm, with both having a $45 buy-in.
Do players earn comps while playing poker at Suncoast?
Yes. All players receive $1.25 an hour in comp when using the BConnected players card offered by Boyd Gaming.