Treasure Island Poker Room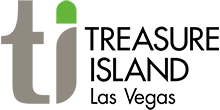 3300 S. Las Vegas Blvd
702-894-7291
General Info
Other Casino Features:
Treasure Island offers the best low limit blackjack on the Las Vegas Strip.
Pros & Cons
$4 max rake / $3 on FL games
Great promotions
Free parking
$2 jackpot drop
Few games
Poor location
Treasure Island is often referred to as simply TI. It is owned by Phil Ruffin. Treasure Island is located on the Las Vegas Strip across from Venetian and just north of Mirage.
Phil Ruffin is a high stakes poker player. This may explain why his property hosts a room that struggles to draw traffic. The TI poker room is located across from the sports book on the north end of the property. It spreads eight tables. It moved in 2013 from its location by the Mirage tram and parking deck.
TI has partnered with 888 in Nevada and plans on hosting a room on the All American Poker Network. WSOP.com is the flagship on that network. It will share player pools with Delaware.
Treasure Island Casino and Poker Room Photos
Common Treasure Island Cash Games
The most common game at the Treasure Island poker room is $1/$2 No Limit Texas Hold'em. Buyins are $100 to $500.
TI also offers a $1/$1 blind No Limit Texas Hold'em game. Players may buyin for $50 to $100. The limit game offered here is $3/$6. The $1/$1 and $3/$6 games rarely run.
The mixed game started by dealers at Imperial Palace moved to TI. It used to run every Sunday. Now it may only get off the ground once a month. It is usually a $3/$6 game. Many mixed games are available during the summer poker tournament season.
Treasure Island Tournaments
There are four daily No Limit Texas Hold'em poker tournaments. The buyin is $65 for two of them. There is a $15 admin fee for these tournaments, meaning only $50 goes into the prize pool. The 11am and 7pm tournaments start with 8,000 chips and have 15 minute levels.
The 2pm and 10pm tournaments have a $500 guaranteed prize pool. Players start with 10,000 chips. Levels are 20 minutes.  The buy-in is $75 with $57 going to the prize pool.
Treasure Island Promotions
The TI poker room offers progressive high hand bonuses for four of a kind, straight flushes, and royal flushes. There is a weekly freeroll for players that give at least five hours of cash game action. The more hours played, the higher the starting stack. Players can earn up to $10 in cash for simply playing at ring games. There is also an aces cracked promotion. In exchange for all of these promotions, the house takes a promotional drop of up to $2, depending on the size of the pot.
All players earn $2 an hour while clocked in at cash games. These comps may be redeemed for food and hotel.
Environment
The TI poker room offers more than a dozen high quality televisions. This is because it was the temporary home to the sports book during a remodel. All tables offer automatic shuffling machines. The TI poker room uses the Bravo Poker system.
Food Options
Little Richie's Chicago Beef and Dogs is located just outside the poker room. Pizzeria Francesco's offers pizza by the slice. There is also a buffet and several full service restaurants.
Treasure Island Poker Opinion
What We like about ROOM
If you are into mixed games, TI is a good place for it, assuming the games are actually running. Otherwise, we recommend looking elsewhere.
What We do not like about ROOM
The Treasure Island poker room offers very little in the way of action. The few games that run are full of rocks hoping to get their aces cracked while they earn hours towards the cash back and freeroll promotions. There are far better places to play poker on the Las Vegas Strip.
Treasure Island Poker Room FAQ
What cash games are spread at the Treasure Island poker room?
Treasure Island poker room spreads $1/$2 No Limit Texas Hold'em, as well as the rare $1/$1 and $3/$6 cash games.
How many cash games typically run at night at Treasure Island?
Treasure Island has three to four cash games being played at any given time during the nights.
What is the Rake at Treasure Island Poker Room?
Treasure Island rakes 10% up to $4 at all no limit games. Fixed limit games have a $3 max rake.
Does Treasure Island spread poker tournaments?
Yes. Treasure Island has four daily NL Hold'em tournaments at 11am, 2pm, 7pm, and 10pm. Buy-ins range from $65 yo $75.
Do players earn comps while playing poker at Treasure Island?
Yes. All players earn $2 an hour comps while clocked in at cash games.