888 Poker Network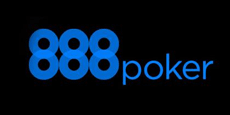 | | |
| --- | --- |
| Size | Very Large |
| Launched | 2002 |
| Major Markets | Europe, Asia |
| Flagship Room | 888 Poker |
| Other Notable Rooms | Lotos Poker,Tower Torneos |
| Number of rooms | 3 |
| Traffic | 3,000 |
The 888 Poker Network has become a success story in an otherwise declining online poker market.  The 888 Network learned the value of social media early and used it to their advantage while their competitors were still trying to figure it all out.  The 888 Network allowed players to post hands and tournament results to social media sites such as Facebook and Twitter before any other site.
888 also created apps to help players play for fun on Facebook and used this feature to convert play money players to real money.  All of this has kept the network in the number two spot in terms of online poker traffic, according to PokerScout.
Most players access the 888 Poker Network through the 888 website; 888.com. New players receive a 100% up to $400 first deposit bonus at 888. There is also a free $88 promotion where players are awarded $7 in free tournament tickets and $1 in cash. The remaining amount is paid as a pending bonus.
A Look at 888 Poker Network
888 Poker Network Poker Rooms
About 888 Poker Network
The 888 Network launched in 2002. It was under the name Pacific Poker. It was the only skin on the platform until 888 was created. Both were owned by the same company. Other 888 poker skins on the network over the years include Littlewoods, LuckyAce and WSOP UK.
The 888 Network is the second largest in the world. PokerStars is the only one with more players. 888's ability to market through social media and attract recreational players are keys to its success.
888 Aims to Attract Recreational Players
888 has always been wary of appealing too much to serious players.  The network started out as a standalone site called Pacific Poker.  This skin and website still exist today but is no longer marketed.  The software offered by Pacific Poker in its early days can be politely described as garbage.  While other sites were improving their software to allow players to play more than one table, Pacific Poker resisted this movement, or did not have the capabilities to improve. This kept the games at 888 loose because expert players could not sit at more than one game.
One major play in the recreational player arena was when 888 changed its VIP program in March 2016.  The previous program was based on the amount of rake paid by a player.  888 changed this to a mission-based system.  This means that players are rewarded on hitting special hands or sequences.  The amount of rake paid is completely irrelevant to the player returns as it pertains to rakeback.
888 Creates Poker Network
888 has branched out a little into the online poker skin market by licensing sites owned by other companies.  LuckyAce Poker was an early skin on the network.  LuckyAce was caught violating network rakeback rules and was eventually bought back by the network.  Littlewoods, a former skin on Cryptologic, also joined the network but eventually moved to iPoker.  The most well known skin today is the World Series of Poker.  The only country accepted by the WSOP.com skin is the United Kingdom, where Caesars Entertainment has obtained an interactive gaming license.
888 Expansion into U.S. Market
888 and Caesars Entertainment joined forces in the Nevada and New Jersey regulated online poker markets using the World Series of Poker brand and the 888 software to market to players. 888 shares player pools with WSOP.com in New Jersey. WSOP.com operated without the 888 brand in Nevada.
888 Poker Delware operates the three regulated Delaware Lottery online poker sites. This is done through the Delaware racinos.  Delaware Park, Dover Downs and Harrington Raceway all have 888 poker skins on the Delaware Lottery's poker network.  All three sites share the same platform.  The only major difference between them is the branding.  Each also offers casino games that include blackjack, roulette, slots and video poker.
888 Poker Network Timeline
888 is one of the longest running poker platforms in the world. It all started in 2002 with the launch of Pacific Poker. The company managed to stay relevant in a declining market due to its aggressive marketing. It also tried its best to repel professional players in an effort to keep a fun environment at the 888 poker network. This is why there is such a detailed time line for 888.
History of 888 Poker Network
2003
Brand Crated
888 brand created, operates alongside Pacific Poker
2006
888 Leaves U.S.
888 leaves U.S. market after UIGEA signed into law
2008
Littlewoods moves to 888
Littlewoods moves to 888 from Cryptologic
2013
888 powers WSOP
888 powers WSOP Nevada, launches branded site in New Jersey
2015
LuckyAce closes
LuckyAce Poker closes
2002
Pacific Poker Launches
Pacific Poker as a small poker network that specializes in casino games
2005
888 Hodings goes public
888 Holdings goes public on London Stock Exchange
2008
LuckyAce on 888 Network
LuckyAce launches on 888 Network
2010
WSOP UK on 888
WSOP UK skin opens on 888
2014
Littlewoods Poker Closes
Littlewoods Poker closes
2015
WSOP and 888 Merger
WSOP.com and 888 merge player pools in New Jersey
Now
888 Poker Network Today
The 888 Poker Network remains strong in a market that is going the opposite direction. The network consists mostly of traffic brought by 888. The network model is not like it once was as 888 poker skins like Littlewoods and LuckyAce are no longer with it and WSOP.com only provides UK players.
The company is well positioned to capitalize on the expansion of legal and regulated online poker in the world. In addition to the international site, 888 operates regulated and licensed platforms in Spain, New Jersey, Delaware and Nevada.
Flopomania
Flopomania is a Texas Hold'em variant that adds some luck to the game. Players ante instead of posting blinds. Each player receives two cards. The flop is immediately displayed. There is no preflop betting round. The game continues at this point in a traditional Texas Hold'em format.
Push or Fold Flopomania is a variant where there is only one betting round, which is set. A player must bet or fold when it gets to them. This is decided before the flop.
888 FAQ
How large is the 888 Poker Network?
It is the second largest online poker site in the world, according to PokerScout.
How many people play at 888?
888 averages about 1,900 cash game players at any given time, according to PokerScout. It peaks at around 3,000 players daily.
Does 888 operate any ring-fenced sites?
Yes. 888 operates platforms in Spain and the U.S.
Does the 888 Spain site connect to the international 888 Network?
No. The 888 Spain player pool is separate from any other player pool.
Do the 888 U.S. sites connect?
The Delaware and Nevada 888 sites share player pools. The New Jersey platform is intrastate.
Does 888 operate in Nevada?
Yes. It operates under the WSOP.com brand in Nevada.