Why Free Poker Sites Are Waste of Time for Players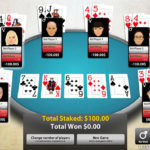 There are hundreds of places to play online poker. Some are real money poker sites where players can win cash. Others are social media sites where players can play for free or spend money for rewards. Others are just outright free with no ability to spend money.
There are play money tables at nearly all real money poker sites. These are useful for learning the software and getting the hang of the game. Beyond that, there is little productive about sitting at these tables.
Real money online poker rooms help players improve skills. Players at these tables are trying their best to win money. Few players are there to burn chips at the table. The goal is winning and players at these games improve their online poker skill with every hand that they participate in.
The only exception may be micro limit games where buy-ins are less than $5. The skill and caring level will be higher at these games than play money tables, but will not be on the same level as higher limit games. In general, the higher the buy-in, the more serious the players at the tables are. This makes every session a poker lesson where there is plenty to learn.
Play money tables teach nothing
The same cannot be said for play money poker sites. Many will allow players to receive unlimited poker chips during the day. Some may limit it to one or two rebuys. Regardless, these games are not serious in any way. Players will go all in with anything and make terrible calls. There isn't much motivation in folding gutshot straight draws of bottom pairs.
The bad beats at these play money tables are on an astronomical level because nobody folds. This doesn't teach anybody anything about the game. Moving up in play money limits will not change that. In the end, no matter how much you run over a play money table, those chips will always be worthless.
Social poker tables are not much better than play money ones
Social poker tables are not much better than play money tables. In some ways, they're worse, and players are better off at play money sites.
Many players at social poker sites never deposit anything. There are perks for those that do. This may include anything from special avatars, gifts, bonus chips and higher levels of player support. What these social sites do not do is pay out cash or any sort of equivalent. In other words, players that spend money at social sites have no way to recoup that investment. It is always a 100% loss for the player.
The level of play at social sites is better than play money poker sites, but still quite poor. There isn't much to be learned at these tables. A majority of the players have not invested any money in their chips. The others have made poor investments paying cash for chips that are worthless. It's hard to think a poker player that does this is one that has any serious level of skill. There is no value in such an investment.
If you are serious about learning poker, the best way to do it is at a real money poker site like BetOnline or Bovada. There are tables that start at pennies. This will help you improve your poker skills and hopefully move up in limits where you can win serious cash.