Pennsylvania Online Gambling Bill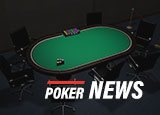 Pennsylvania appears to be the favorite to become the next state to legalize and regulate online poker in the country. Five bills are pending in the state legislature. Most would legalize and regulate poker and casino games over the Internet.
Players would be required to open the account in person at an operator's live casino.  All players must be 21 years of age or older.  This is the same legal age for gambling at standard Pennsylvania casinos.
Once a player created an account they would be allowed to deposit from their home.  Potential deposit methods include cash at a casino cage, checks or money orders by mail, bank wires and potentially credit and debit cards.
Like other state proposals, online casinos would be required to provide online gambling features to players.  This includes loss limits, temporary and permanent self exclusions and maximum betting levels.  Problem gambling phone numbers would be prominent in any online gambling software.
This is not the only online gambling bill being considered in Pennsylvania, the country's second largest casino state in terms of revenue. 
State Representative Paul Clymer has submitted a bill that would ban online gambling in Pennsylvania.  The bill would make it a crime for players and operators to participate in online poker and casino games.  Both Rep. Davis and Rep. Clymer represent Bucks County, which is just north of Philadelphia.