The Wynn Classic Poker Tournament Has Begun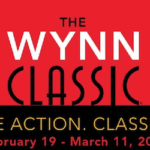 The Wynn Poker Classic began this week with quality tournament gaming starting on February 19th and continuing through March 11th. The Wynn Las Vegas plays host to the series, offering players a nice selection of ultimate poker tournament action, including the NLH Championship with $1,000,000 in guaranteed prize money up for grabs.
The Wynn Classic kicked off on February 19th with the $550 NLH Seniors $50K Guaranteed event, 20,000 in starting chips provided, and 30-minute blind levels. The schedule continued on February 20th with players having access to a No Limit Hold'em event with a $400 buy-in and $40,000 in guaranteed prize money up for grabs, as well as the Pot Limit Omaha 8 handed event, with $400 buy-in and $25,000 in guaranteed prize money on offer.
No Limit Hold'em
Players will find the Wynn Poker Classic is filled with No Limit Hold'em action with unique events on the schedule including the $5K NLH Survivor tournament. However, the most anticipated event of the series will be the NLH Championship. This event has a buy-in of $1,500 + 100, providing players with 30,000 in chips and blind levels of 45/60. This event will have the largest guarantee of the series with $1,000,000 on offer, top pros and amateurs alike competing to earn the first-place finish.
2017's Results of The Wynn Classic
Last year's Wynn Poker Classic Championship offered only $500,000 in guaranteed prize money with the same $1,500 buy-in with $100 entry fee. A total of 447 players competed in the event with Matt Affleck defeating Christopher Sova in heads-up play to earn the title win and $139,348 in prize money.
Super Satellites
On top of the Wynn Classic tournaments, the series will also include Super Satellites. With these satellites, players will be able to gain entry into the tournament events for a much lower buy-in. Starting on February 23rd, players will have access to Super Satellites to the Championship as well as other options. Satellite to Championship qualifiers have a buy-in of $265 + 35 and will provide 10 seats to the championship event. Twenty seats will be on offer during the Super Satellites scheduled for the 28th.
Accommodations
Players attending the Wynn Poker Classic will find accommodations are available on-site at the Wynn Resort. Players can choose to stay in a resort room, tower suite or other option based on availability as well as budget needs. Guest room pricing starts around $200 and increases based on room type and amenities.
Wynn Poker Classic – Schedule of Events
DATE
DAY
EVENT
GUARANTEE
ENTRY
2/19
11am MON
NO LIMIT HOLD'EM (50+)
$50,000
    $500 + 50
2/20
12pm TUE
NO LIMIT HOLD'EM
$40,000
    $360 + 40
2/20
2pm TUE
POT LIMIT OMAHA (8 Handed)
$25,000
    $360 + 40
2/21
12pm WED
$5K NLH SURVIVOR
$40,000
    $360 + 40
2/22
12pm THU
NO LIMIT HOLD'EM
$40,000
    $360 + 40
2/23
12pm FRI
NO LIMIT HOLD'EM
$100,000
    $500 + 50
2/24
12pm SAT
NO LIMIT HOLD'EM
$100,000
    $500 + 50
2/25
12pm SUN
NO LIMIT HOLD'EM
$50,000
    $360 + 40
2/26
12pm MON
NO LIMIT HOLD'EM Day 1A
$250,000
    $545 + 55
2/27
12pm TUE
NO LIMIT HOLD'EM Day 1B
    $545 + 55
2/28
11am WED
NO LIMIT HOLD'EM SENIORS (50+)
$25,000
    $360 + 40
2/28
4pm WED
NO LIMIT HOLD'EM (2 Day Event)
 $3,000 + 150
3/1
12pm THU
NLH CHAMPIONSHIP Day 1A
$1,000,000
 $1,500 + 100
3/2
12pm FRI
NLH CHAMPIONSHIP Day 1B
 $1,500 + 100
3/3
12pm SAT
NLH CHAMPIONSHIP Day 1C
 $1,500 + 100
3/4
12pm SUN
NO LIMIT HOLD'EM
$40,000
    $360 + 40
3/5
12pm MON
NO LIMIT HOLD'EM
$40,000
    $360 + 40
3/6
12pm TUE
NO LIMIT HOLD'EM
$40,000
    $360 + 40
3/7
12pm WED
$5K NLH SURVIVOR
$40,000
    $360 + 40
3/8
12pm THU
NO LIMIT HOLD'EM DAY 1A
$250,000
    $545 + 55
3/9
12pm FRI
NO LIMIT HOLD'EM DAY 1B
    $545 + 55
3/10
12pm 

SAT

NO LIMIT HOLD'EM DAY 1C
    $545 + 55
3/11
12pm SUN
NO LIMIT HOLD'EM
$40,000
    $360 + 40
2/23
7pm FRI
SATELLITE TO CHAMPIONSHIP
10 Seats
    $265 + 35
2/24
7pm SAT
SATELLITE TO CHAMPIONSHIP
10 Seats
    $265 + 35
2/25
7pm SUN
SATELLITE TO $3150
5 Seats
    $360 + 40
2/26
7pm MON
SATELLITE TO $3150
5 Seats
    $360 + 40
2/27
7pm TUE
SATELLITE TO $3150
5 Seats
    $360 + 40
2/28
1pm WED
SATELLITE TO CHAMPIONSHIP
20 Seats
    $265 + 35
2/28
7pm WED
SATELLITE TO CHAMPIONSHIP
20 Seats
    $265 + 35
3/1
7pm THU
SATELLITE TO CHAMPIONSHIP
20 Seats
    $265 + 35
3/2
7pm FRI
SATELLITE TO CHAMPIONSHIP
10 Seats
    $265 + 35