Weekly Roundup August 2 2013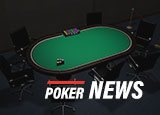 The top story this week involves Full Tilt Poker remission payments to U.S. players.  The Garden City Group updated its Fulltiltpokerclaims.com website where players owed money from the Full Tilt Poker fraud will need to go to make their claim.  The new text added to the website on August 1st states that the claims process will begin shortly.  It was also stated that players will receive their actual balances, regardless of win/loss amounts or pending banking transactions that were never completed.  This was a concern over echeck deposits that were never processed that dated back to late 2010.  Apparently these phantom transactions will be considered a part of a player's balance.  Players may receive a prorated amount if there are more claims than money made available by the Department of Justice.
South Point Poker Now Accepting Player Registrations
South Point Poker launched its signup process this week.  Players from across the country may create an account and reserve their screen name.  Players will also be able to deposit from anywhere once the software is live, but can only play for real money while located in Nevada.  South Point Poker chose to use the Real Gaming brand name.  Players may sign up at Realgaming.com.  The official launch date is not yet available.
New Jersey Receives 37 iGaming Applications
The New Jersey Division of Gaming Enforcement announced that a total of 37 companies applied for an interactive license by the July 29th deadline.  The companies that applied were not identified.  New Jersey hopes to have online gambling live by November 26, 2013.
Players Still Waiting for Ultimate Poker Version 2.0
Players are anxiously awaiting the launch of a major software update at Ultimate Poker.  This will include a VIP program and fixes for several bugs.  Approval for the new software platform is expected in the coming weeks.
Two Brick and Mortar Poker Room Closures Announced
Two poker rooms made a closing announcement this week.  Revel in Atlantic City will close by August 15, 2013.  Over $300,000 will be given away to players over the next two weeks.  There is a $200,000 bad beat jackpot where the qualifier is aces full of jacks.  There is also a $500 high hand giveaway every hour until the $112,000 promotional fund is exhausted.
The M Resort in Las Vegas closed its poker room with no notice after the close of business on August 1, 2013.