Weekly Roundup August 29 2014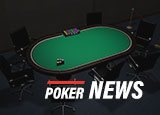 Nevada and Delaware Poker Interactive Gaming Revenue
Nevada online poker rake was $985,000 in July.  This is the second best month since its launch in April 2013.  The best month was June 2014 when the World Series of Poker was in full swing.  Nevada still lags New Jersey in terms of poker revenue, but is ahead of Delaware.
The Delaware Lottery's online poker platform raked $31,397 in July.  It also generate $141,699 in table game and slot revenue.
West Virginia Lottery Moving Online?
The West Virginia Lottery held a discussion about online gaming earlier this year.  It announced a second meeting with casino executives will take place in October.  Gaming revenue in West Virginia has declined due to recent casino expansion in Ohio and Maryland. Offering online poker and casino games in the state could help improve tax revenue.
NCSL Opposes Online Gambling Ban
The National Conference of State Legislatures (NCSL) published its policies and resolutions from a meeting earlier this week.  The release includes a part about opposing any federal action pertaining to online gambling.  The NCSL feels that all gambling matters should be left up to the states.  This has been historically the case, however, some some in Congress are trying to change that.
888 Coming to Nevada
888 told Bluff Magazine that it will open a Nevada online poker room in late 2014 or early 2015.  The site will share liquidity with WSOP.com, the current Nevada market leader.  888 would then have the platform needed to merge player pools between Delaware, where it operates the lottery's monopoly platform, and Nevada.  There are no current plans to merge New Jersey with the player pools in these two states or combine liquidity between 888 and WSOP in the Garden State.