Weekly Roundup December 13 2013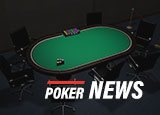 The highlight of this week was a House subcommittee hearing on online gambling.  The bill up for discussion was the Poker Freedom Act.  The witnesses included American Gaming Association President and CEO Geoff Freeman, Poker Players Alliance Executive Director John Pappas and Las Vegas Sands Senior Vice President Andy Abboud.
The committee members appeared to be well versed in online gaming.  Many questions were asked to the witnesses, most aimed at the three mentioned earlier in this article.  Freeman and Pappas did an outstanding job in the eyes of most poker players and media.
Abboud, which represents Las Vegas Sands, was there to testify about the dangers of online gaming.  There were several gaffes with his argument.  At one point, Abboud stated:
It's fine if people want to play poker online
When put on the spot later, he denied support of online poker.
Abboud was also asked about a Cantor Gaming app advertised on the Venetian website.  This app allows anyone in Nevada to place a wager on a sporting event.  Rep. Jan Schakowsky (D-Ill.) had this to say about Las Vegas Sands' anti-online gambling position :
It feels, to me, a little hypocritical
Rep. John Barton (R-Tex.), sponsor of the Poker Freedom Act, also lashed out at Abboud after showing slides of Venetian's advertisement of mobile gaming.  Barton declared that the type of regulated mobile gaming offered by Cantor Gaming on Venetian's property was exactly what his bill was trying to accomplish.
While the committee hearing may not bring a federal bill, it gave the spotlight on a topic that has received little attention on a federal level.
Golden Nugget Approved in New Jersey
Golden Nugget is now approved to fully launch online poker and casino games in New Jersey.  Casino games will launch on Saturday and will include 77 games, more than any other New Jersey casino site.  There will also be a wide variety of banking options.
Golden Nugget Online poker will not be available until next month.  Once live, it will share liquidity with Betfair.  Both sites use Ongame Network poker software.
PokerStars License Application Suspended for Two Years
Citing the ongoing legal issues with founder Isai Scheinberg, the New Jersey Division of Gaming Enforcement suspended the license application of PokerStars for two years.  This will keep PokerStars out of the New Jersey online gaming market in the short term.  The licensing process could be revisited if a substantial change is made to warrant it.
Resorts, the partner of PokerStars, has not stated whether the company will find a new partner or wait and see what happens with the PokerStars situation.  PokerStars had previously announced the construction of a PokerStars branded poker room on the Resorts property.  These plans appear to be on hold.