Weekly Roundup December 17 2015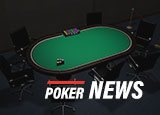 PokerStars Protest Accomplishes Nothing
The PokerStars protest earlier this month was created in the hopes that the world's largest poker site would reverse recent decisions to slash its VIP program returns.  PokerStars was not receptive to the player complaints.  In fact, the company stated that its ecology was better during the period of the three-day strike than at any other time this year.  It appears that players will need to either find a new poker site or accept the unpopular changes at PokerStars.
Borgata Poker Reload Bonus
Borgata Poker, the largest cash game site in New Jersey, is offering a 100% up to $300 reload bonus through Saturday.  The bonus code is RELOAD1215.  The bonus clears at a rate of 20% rakeback and releases in 10 equal increments.  Players have until December 31 at 11:59pm to clear the bonus.
Pennsylvania Online Gaming Bill Likely Dead in 2015
A bill that would legalize and regulate online gaming in Pennsylvania appears to be shelved for the year.  The industry hoped that it would be attached to a budget resolution as it would generate more than $100 million in fiscal year 2015.  That wasn't the case.  The bill is expected to reemerge in 2016.
It is supported by all casino companies in Pennsylvania with the exception of Las Vegas Sands.  That company has lobbied hard against online gaming in the United States.
Sheldon Adelson Buys Las Vegas Review-Journal
Online gambling opponent Sheldon Adelson bought the Las Vegas Review-Journal.  It is the largest newspaper in Nevada.  The deal was orchestrated anonymously.  The staff at the Las Vegas Review-Journal dug for the answer ever since and broke the story this week.
Today, the Las Vegas Review-Journal followed up with some bizarre news that the previous owners used three journalists to investigate three judges.  One just happened to be presiding over a wrongful termination suit where Las Vegas Sands, where Adelson is CEO, is the defendant.