Weekly Roundup February 13 2015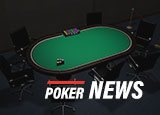 Bovada Poker Moves to Fourth Place in World
Bovada is now the fourth largest online poker network in the world, according to PokerScout.  It is now three times larger than the second largest U.S.-facing network, Merge Gaming.  Bovada is averaging 1,900 players at any given time.  It peaks around 4,000 players.
Bovada's traffic is up 35 percent this year.  It was thought that this boom could be attributed to pro football playoffs, a popular time for U.S. sites.  The traffic has sustained itself well past the end of the football season.
Carbon Poker Online Poker Series in Full Swing
There is still plenty of time to join the Carbon Poker Online Poker Series.  There are five daily events between now and February 22.  The main event is a $215 tournament with a $250,000 guaranteed prize pool on February 22.
Winning Poker Network Online Super Series IV
The Winning Poker Network is launching its Online Super Series starting today, February 13.  The tournament series will run through February 22.  The main event will be held on February 22 at 3pm.  It offers a $1 million guarantee.  This event was canceled in December after a technical difficulties related to a denial of service attack took the servers down.
More California Tribes Willing to Compromise
There are more California tribes willing to compromise on bad actor clauses and inclusion of racetracks.  The Morongo tribe is the latest to say that it is willing to come to the table to find a deal.  A lawyer representing Rincon also mentioned that it is willing to reach a settlement that may allow PokerStars to enter the market.
There are two bills in the California Legislature that would legalize and regulate online poker.  One would permit PokerStars and racetracks, while the other would not allow either.  There is hope that a middle ground may be found so that California online poker can become a reality by 2016.