Weekly Roundup February 1st 2013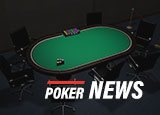 Carbon Poker VIP Program Changes
The biggest news to come out of the US online poker scene this week is a major change to the Carbon Poker VIP program.  The top tier of 45% rakeback has been removed effective February 1st.  The top tier now offers 35% rakeback.  There is an even bigger problem for high volume players.  Not only do they lose 10% of their returns in the Carbon Poker VIP program, the rewards cap at $2,100 per month.  This means that players that rake more than $6,000 will not see any rewards on rake generated over that amount.
This has caused anger among poker players.  Not only do many players lose in the new Carbon Poker VIP program, there was also just nine days notice of this major change.  This all came about due to the change in policy on flat Merge Gaming rakeback.  The network announced that all players would be forced to move to the new VIP program, even rakeback players that had been receiving it for years.  This is not typical of a major policy change.  In most cases, players would stay grandfathered in on their agreements.
Lock Poker Players Still Slow Paid
Lock Poker, a member of the Revolution Gaming Network, is once again in the news.  The biggest complaint is that cashout speeds are far worse than average US online poker rooms.  Cashouts for Western Union have been taking upwards of two months.  Checks are taking even longer.  All other online poker networks that serve the US are faster with their payouts.  These delays are also hitting Juicy Stakes, the only other Revolution Gaming skin that accepts new US players.  Juicy Stakes is processing checks in 3.5 to 5 months.  Juicy Stakes does not offer US players Western Union or any other similar payment for withdrawals.
Full Tilt Poker Repayments Still Held Up
Full Tilt Poker was one of the sites taken down on Black Friday.  PokerStars was another Black Friday victim.  While Full Tilt Poker went bust, PokerStars paid all US players in a timely manner.  PokerStars ultimately settled with the US Department of Justice in a landmark $731 million agreement that compelled PokerStars to pay all players.  The Department of Justice will be US players but all of this is on hold due to a pending lawsuit by Cardroom International.
Cardroom operates a play money site using online poker software that once powered Jet Set Poker.  Cardroom alleges that the Full Tilt Poker software was sourced from their software that was picked up during a 2008 bankruptcy.  The Department of Justice has stated in court filings that remissions to US players will be delayed until the court case between Cardroom International and federal authorities is settled.  The original claim was $30 million but that has ballooned now to a claim of all seized and settled assets.
Several More States Looks to Add Online Gambling
There is good news on the regulated US online poker front.  The state legislatures in Iowa and Hawaii now have an online poker bill to consider during this year's session.  The Iowa bill is online poker only, while the Hawaii bill also includes online casino games.  The Hawaii bill is especially interesting as they are one of just two states with no form of legalized gambling.  There is not even a lottery in Hawaii.
Pennsylvania state representative Tina Davis also gave notice that she will submit an online gambling bill for consideration.  She was not clear if the bill would be for poker only or all casino games.  The language of the bill has not yet been released.
Delaware is looking for companies to help them launch their lottery based casino games.  They are taking bids for software companies and payment processors.  Delaware hope to have their systems online by the end of the third quarter of 2013.  Nevada looks to be the first state to launch online poker.  Hopes are that systems may be live as early as March.  Nevada already has regulated mobile and online sports betting live.
Make Sure to Play Online Poker Super Bowl Sunday
The other major news in the US gambling arena is that this weekend is the Super Bowl.  The hours after the Super Bowl tend to be the best time to play online poker.  This is especially true at all US facing online poker rooms.  Players that won their bets are flushed with cash and ready to gamble more.  Those that lost may feel the urge to try and win some back.  Some players are also loose due to heavy partying during the game.  Whatever the reason, if you can make it to the online poker tables after the Super Bowl ends, you will be rewarded with some of the best games to be found all year.