Weekly Roundup February 21 2014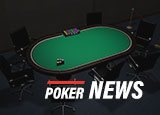 Bally's Atlantic City to Open WSOP.com Poker Room
Bally's in Atlantic City will open a WSOP.com branded poker room in the Wild West portion of its property.  The 42-table poker room will include free wi-fi, phone chargers at all seats and 20 televisions.  The poker room will be located on the sixth floor.  The number of tables can be expanded to 80 during special tournament series.
Real Gaming Opens in Nevada
Real Gaming became the third regulated online poker site in Nevada this week.  The site focuses on social aspects of poker.  The software is in a testing phase through the Nevada Gaming Control Board.  Real Gaming uses a different form of location verification.  There is an app that provides a token for players to enter into the software.  It takes a few more seconds than other forms of verification.  There are no problems once the app has recognized that the device is in Nevada.
The software is stripped down and provides no modern features.  It is fast, but has some bugs.
Action has been very limited since the launch.  The room is often dark.  The most popular game is $.10/$.20 No Limit Texas Hold'em (NLHE).  All games on the site are NLHE.  Cash games and sit and gos are available.
Nevada Senators May Introduce Federal iGaming Bill
Senators Dean Heller and Harry Reid of Nevada may introduce an online gaming bill soon, according to the Las Vegas Review-Journal.  The bill would allow online poker, but ban casino games banked by the house.  The bill appears similar to the failed Reid/Kyl poker bill in 2012.
California Online Poker Bills Introduced
Two California online poker bills were introduced this week.  Both are poker only.  House games would not be available.  Card clubs and tribal casinos would be able to operate online poker sites.  These bills are in the beginning stages.  We should know more next week.