Weekly Roundup February 22 2013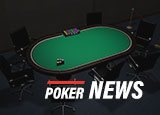 The biggest news this week in the US online poker market is that the Bodog Network became the largest US facing online poker network.  That is the first time the network can make that claim to fame in its history.  The Revolution Gaming Network had held that honor since June 2012 after Lock Poker purchased the network and moved their large player base to it.
Bodog's US facing skin is Bovada.  They offer some of the fastest US online poker cashouts.  Players can expect to receive a cash transfer in 1-3 days, a check in 1-2 weeks or a bank wire in 2-4 weeks.  Players may also receive one free check or wire cashout per month.
Bovada offers a wide variety of games to US players.  In addition to Texas Hold'em, Bovada players can enjoy Pot Limit Omaha, Omaha High/Low, Seven Card Stud and Seven Card Stud High/Low.  Bovada is currently running a tournament series between now and March 24th.  The Black Diamond Poker Open offers a variety of games and buyin levels that should satisfy all players.
State Online Poker News
Several states moved forward with online poker legislation this week.  Nevada, who became the first state to legalize online poker in 2011, passed legislation that allows the governor to enter into multi state compacts to create online poker network player pools.  The bill also included a bad actor clause.  This clause excludes companies that accepted US players after December 31, 2006.  This would exclude a company like PokerStars, regardless of whether the company was ever found guilty of their actions.
Massachusetts lawmakers have two new internet gambling bills to consider during the 2013 legislative session.  One bill would authorize the sale of lottery tickets over the internet.  Tickets could include standard lotto drawings, keno games and scratch off arcade style tickets.  These scratch off tickets could resemble slot machine symbols, something the failed Reid/Kyl bill would have not allowed.
Another Massachusetts bill would allow online gambling licenses to be issued to qualified casino companies.  Both online poker and online casino games would be allowed as long as they did not directly compete with lottery ticket sales.
Ferguson Settles with DOJ
Chris Ferguson settled the civil case that the US Department of Justice filed against him in September 2011.  The terms of the case require him to pay at least $2.35 million in forfeitures to the DOJ in addition to funds that had already been forfeited in some specified accounts.  Ferguson is also barred from getting involved with any unlicensed US facing online poker rooms.  This includes profiting or moving money between his personal bank accounts and any unlicensed online poker rooms.  This would appear to mean that he may not even play online poker in the US until regulated sites go live.
Ferguson did not admit any wrongdoing and the settlement even included language that stated he did not believe online poker was considered gambling or illegal.  The settlement was released on Tuesday and a judge accepted the terms on Friday.