Weekly Roundup February 26 2016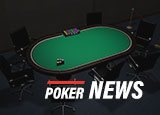 PokerStars Announces New Jersey Launch Date
PokerStars New Jersey announced that it will launch on March 21.  Players that had an account on the .com site before Black Friday can log in with the old username and password.  New players can complete the new account creation process in a couple of minutes.
PokerStars will offer its jackpot sit and go product Spin & Go in New Jersey.  This will be the first of its kind in the market.  Any player that creates a PokerStars account by March 27 may play in a $25,000 freeroll the same day.  First prize is $5,000.  All winners are paid cash for the freeroll.  There is no associated bonus to clear.
Iovation Nevada Licensing Requirements Revealed
Iovation, the fraud database company related to Ultimate Bet's software engineering firm, received a gaming license last week from the Nevada Gaming Commission.  It was not without scrutiny.  Nevada regulators required several conditions on the license.  One includes a demand for Iovation to not associated with Russ Hamilton.  The company will be required to post $25,000 to an investigation fund.  Nevada regulators can use this money at any time to watch the company.
There were six other conditions Iovation had to agree to for the licensing.  They may be found on page six of this Nevada Gaming Commission agenda from February 18, 2016.
World Series of Poker Schedule Released
The 2016 World Series of Poker schedule was announced this week.  The Casino Employees event starts on May 31.  The last day of play before the November Nine is decided is July 18.  The $1,000 online event returns.  That will be held on July 8.  There are 68 total events.
About 15 percent of the player pool will cash in most events.  The min-cash will be about one and a half times the buy-in.  See the 2016 WSOP schedule here.