Weekly Roundup February 27 2015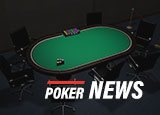 SealWithClubs Reopens Under New Brand
The Bitcoin-only online poker SealsWithClubs ceased operations last week after being offline for 10 days. Chairman Bryan Micon created a You Tube video explaining the situation. In the video, Micon states that the Nevada Gaming Control Board raided his Las Vegas home early in the morning of February 11, 2015. Agents seized electronic devices from Micon's home.
At the same time, there was a server error related to the SealsWithClubs site. The site's board of directors elected to close the site based on these events.
The site reopened as SWCPoker this week. The site uses different software that includes mixed games not found anywhere else. These include Badeucy and Badacey, variants of Badugi and Triple Draw. Micon is still the chairman of the site.
Pennsylvania Online Poker Bill Released
Pennsylvania State Rep. John Payne introduced a bill that would legalize and regulate online poker in the state. The bill includes player penalties that would subject funds deposited at offshore sites to state seizure. The state's existing casinos would be permitted to offer online poker to those located in the state. Casino games were not included.  The details of HB 649 may be found here.
Betfair New Jersey $1.5 Million Winner
A Betfair New Jersey high roller got the hand of his dreams on February 14. In a press release this week, Betfair announced that it had paid a Let it Ride player $1.522 million. The player wagered $500 per chip stack and a $500 bonus bet when he was dealt a royal flush. Three chip stacks are required, meaning the player had $2,000 on the table. The odds of getting dealt that hand are almost 650,000-1.
Jason Somerville Signs with PokerStars
Jason Somerville signed with PokerStars this week. His Twitch poker streams have become immensely popular in the industry. Somerville was previously a signed pro at Ultimate Poker before the site failed in late 2014. The announcement was detailed on the PokerStars blog.
Nevada and Delaware Player Pooling Weeks Away
Nevada and Delaware will launch its interstate poker liquidity sharing agreement in four to six weeks, according to a statement made by Nevada Gov. Brian Sandoval to the Las Vegas Review-Journal. The player pool sharing has been delayed by a technical glitch. WSOP.com in Nevada and 888 in Delaware will merge into one site once it is live. 888 will also launch a Nevada poker site through its partnership with Treasure Island.