Weekly Roundup January 17 2014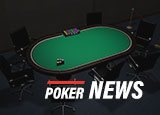 New Jersey Releases 2013 Internet Gaming Revenue
The New Jersey Division of Gaming Enforcement released 2013 Internet gaming revenue numbers.  The amount won by New Jersey regulated sites in 2013 was $8,368,837.  One interesting take from this was that about 38 percent of the revenue came from poker.

Borgata and Caesars were the top two revenue generators in the market.  Both Internet licensees earned more money from poker than casino games.  

Borgata partnered with Party Poker and has become the #1 New Jersey online poker network.  WSOP and 888, while not sharing liquidity, operate under the Caesars license.  The two licenses accounted for 97 percent of all poker revenue in the market.  Ultimate Poker, operating under Trump Plaza's license, hold about 3% of the market in terms of revenue.
In the most surprising news, Betfair raked just $90 off its poker tables in the first 5 weeks of New Jersey online poker.  It has been hurt by the Golden Nugget's late entry into the online poker industry.  It was to share liquidity on the U.S. Ongame Network.
The raw data may be found here.
New Jersey Bill Would Offer International Internet Gaming Licenses
New Jersey is looking to expand its online gaming licensing to international operators.  State Senator Ray Lesniak has introduced legislation that would the state to issue gaming licenses to companies that operate in regulated markets throughout the world.  These sites would not be allowed to accept U.S. players, at least not at first.  A late change struck sports betting licensing, although companies that hold online poker and casino licensing could hold a sports betting permit in a different jurisdiction.
Bizarre Live Poker News
Two unusual stories came out of live poker this week.  The Associated Press is reporting that an event at the Borgata Winter Poker Open was suspended for 24 hours due to the suspicion that counterfeit chips had been introduced into the tournament.  The event had a $560 buy-in and a $3 million guaranteed prize pool.
Poker blogger Jay Newnum was arrested last month and accused of using chopsticks to steal an estimated $700 from dealers at a Foxwoods poker tournament, according to the Associated Press and many poker sources.  The news broke late last week but the police did not publish a press release about the incident until Thursday.  Newnum announced that he would leave the industry indefinitely in a post on his blog.