Weekly Roundup July 26 2013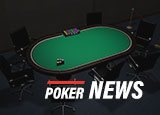 Ultimate Poker Software Upgrade Soon
Safest Poker Sites has some great news for Ultimate Poker players. The company passed its 90 day field trial and may now release its Version 2.0. Players can expect a number of upgrades and new features. What players will not get is new games. The new Ultimate Poker software will not have Omaha or Seven Card Stud.
This new platform will also include a VIP program. There are 8 monthly tier levels and two annual tier levels. The 8 monthly levels appear to be related to chip denominations as the names for the tiers are common chip colors. For example, the bottom tier is white, second tier is red, and the third tier is green. This might make those tiers $1, $5 and $25 in rake. This has yet to be confirmed by Ultimate Poker. The annual VIP level rake was confirmed though. The lower tier is $10,000 in rake, while the top tier is $100,000 in rake. That top tier is expected to include special comps as a player would have to average over $8,000 a month to achieve it.
The rake method used for the Ultimate Poker VIP program will be "winner takes all". This means that only the winner of the pot will be credited with the rake from the hand.
Zynga Admits No Real Money Poker in Future
Zynga announced yesterday that it would not enter the real money poker or casino games business in the United States. This caused the stock to drop as much as 18% in trading today. The company also announced a loss of 40% in its active user base and a 20% drop in revenue. Zynga will continue its Party Poker skin that only operates in the United Kingdom.
2UP in Market for Atlantic City Casino
The UK gaming market 2UP announced that it is in the market to acquire one of Atlantic City's 12 resorts. This is an attempt to enter the real money online gambling market that will open later this year in New Jersey. Operators are required to also be Atlantic City resort owners. Software companies do not have the same requirement. The company has raised $330 million in its quest to become the latest casino owner in Atlantic City.
Two Atlantic City casino deals fell through this year. The Meruelo Group attempted to purchase Trump Plaza, while the parent company of PokerStars tried to acquire the Atlantic Club.