Weekly Roundup June 13 2014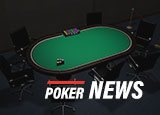 Amaya Gaming to Acquire PokerStars
The biggest news story in years in the online poker industry was announced this week.  Amaya Gaming will acquire the parent company of PokerStars for $4.9 billion.  This is the largest acquisition in the history of the online gaming industry. The deal will require Amaya Gaming to borrow $2.9 billion and issue stock and options to close the dealt.
It must receive approval from Amaya Gaming shareholders.  The boards of directors of both Amaya Gaming and the parent company of PokerStars have already approved the sale.
Both companies have made it clear that players will not notice any difference in day to day operations.  The full press release may be found here.
WSOP.com Nevada Becomes Largest U.S. Regulated Site
For the first time since New Jersey launched online poker, WSOP.com in Nevada is the largest regulated site in the United States, according to stats provided by Pokerscout.com. This can be attributed to the influx of players visiting Las Vegas for the World Series of Poker.  WSOP.com has set up areas for players to use laptops.  This section is known as the "grind room".  WSOP.com is offering new players a 100% up to $1,000 first deposit bonus.  There is also a reload of the same amount.  The bonus clears at a rate of 20% rakeback.
New Jersey Poker Revenue Drops 12 Percent in May
Regulated poker in New Jersey continued its slow drop in May.  Poker rake dropped 12 percent.  Casino game revenue dropped 7.2 percent.
More Full Tilt Poker Payments
The Garden City Group announced another $14 million in payments to 3,200 U.S. players that were victims of fraud at Full Tilt Poker.  These were paid to players and affiliates that confirmed amounts owed and payment methods.  More information about this and future payments may be found at Fulltiltpokerclaims.com.