Weekly Roundup June 26 2015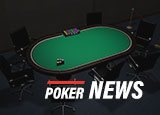 Seals With Clubs Chairman Returns to Nevada to Face Charges
Bryan Micon, former chairman of the Bitcoin-only site Seals With Clubs, returned to Nevada to plead guilty to charges that he operated an unlicensed poker site in the state.  The charges were filed after Micon's Las Vegas home was raided in February by gaming agents.  Micon described the raid in a YouTube video.  He quickly moved to Antigua after the raid where it is believed he has been ever since.
Micon agreed to a plea deal that will see him pay a $25,000 fine.  It also set forfeiture of items seized in the February raid, including computers and about $900 in Bitcoin, according to the Las Vegas Review-Journal.  Micon will plead guilty to a felony that will be reduced to a misdemeanor upon successful completion of probation.
Micon launched SWC Poker, the successor of Seals With Clubs, after relocating in Antigua.  It is unknown if SWCPoker is still owned by Micon.  It is still in operation.  Traffic is much lower at SWC Poker than it was at Seals With Clubs.  PokerScout estimates an average of 14 players at any given time with peaks of about 27 players daily.
Graham Introduces RAWA Bill in Senate
Senator Lindsey Graham (R-SC) introduced the Restoration of America's Wire Act for a second year.  It is the companion bill of an item introduced by Rep. Jason Chaffetz (R-UT).  The bill is backed by Las Vegas Sands and its chairman Sheldon Adelson.  The bill would ban virtually all forms of online gambling outside of fantasy sports and horse racing.  The bill leaves no carve out for state lotteries, which have already come out in opposition of previous versions of this bill.
Barton Introduces Federal Bill
In response to Graham's bill, Rep. Joe Barton (R-TX) introduced the Internet Poker Freedom Act of 2015.  Like Barton's previous attempt in 2013, the bill legalizes and regulates online poker to states that opt-in.  The bill would carry severe penalties to offshore companies, several of which have already been indicted, but officials have never set foot on U.S. soil to face government claims.
Like RAWA, Barton's bill has little support in Congress.  The topic of online poker is not important to most federal politicians.