Weekly Roundup March 22nd 2013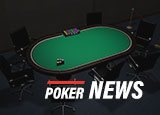 Most of the big news this week came out of the state legislatures or from states that have already approved online poker.  The news continues to show that the US is slowly moving to regulated online poker.
Delaware Announces Fourteen Companies Bid to Operate There
The Delaware Lottery announced that there were a total of fourteen companies that applied to participate in the online gaming industry there.  The market will be owned by the Delaware Lottery monopoly but there will be private companies licensed to provide software, operations, content and support.
There were several well known names on the list of applicants.  These include PokerStars, 888, Amaya Gaming, IGT and Shuffle Master.  Most of the names on the list are experienced online gaming leaders.  Any of them should be qualified to fulfill the positions available.  Delaware is expected to partner with other states, especially for their online poker platform.  This is necessary due to Delaware's small population of just over 900,000.
PokerStars Looks to Spend $20 Million in Atlantic City
PokerStars has made sure to get the word out about their intention to spend money in the ailing Atlantic City market.  The latest public release states that PokerStars' parent company Rational Group has set aside $20 million to spend on the Atlantic Club in the first year of ownership, assuming they receive a license to operate the property.  Rational Group may spend as much as $50 million on the Atlantic Club.
Newjersey.com pointed out that Rational Group has yet to complete its Interim Casino Authorization that is required for the company to receive a license to operate the Atlantic Club.  This delay guarantees that the earliest PokerStars could receive a license would be the end of June.
Bitcoin to be Regulated
Safest Poker Sites will be adding a Bitcoin online poker room in the next week.  That room has the unusual name SealswithClubs.  In the meantime, the federal government has decided that there needs to be some regulation in the Bitcoin industry.  This does not affect online poker players using the anonymous currency.  It does, however, require the processors of Bitcoin payments to follow guidelines that have not been required until now.  This may be good news for players that have concerns about using the virtual currency.
888 and Treasure Island Approved for Nevada License
888 and Treasure Island were among four companies approved to receive a Nevada license on Thursday.  The pair will partner up for the All American Poker Network where Treasure Island will be the flagship.  XyVerify and Player verify were also approved.  There are now a total of 23 companies that have been approved in the Nevada online poker market.  No operators are live at this time.
Revolution Gaming Slowly Being Implemented
Lock Poker and other skins announced that the Revolution Gaming Network would change the player segregation policy.  Lock Poker had ring fenced their players from other skins last month.  The network will now rate all players and prevent highly rated winners from having access to tables populated by losers.  This is slowly being rolled out, but for now, many of the segregated Lock Poker tables have been removed.  Note that Lock Poker and Juicy Stakes are having serious issues paying players on time.  This includes US players and those in the rest of the world.  This may be an attempt to resolve that situation by restricting large winners that are a burden on their withdrawal system.