Weekly Roundup May 1 2015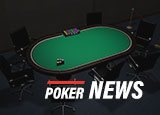 Merge Gaming Drops Skrill
Merge Gaming stopped processing withdrawals via Skrill.  This was the most popular and often only option for players outside North America.  Some players had been waiting up to one month for a withdrawal, only to receive an email notifying them that the withdrawal was canceled.  Players expecting Skrill withdrawals were only given the option of receiving the funds by bank wire.
Merge Gaming Processes Checks This Week
Cashouts to U.S. players from Merge Gaming are running 8-10 weeks at this time.  No withdrawals were paid during a two week period.  The network processed a batch of checks to U.S. players on Wednesday.  Most of the players reporting that their check had been processed originally requested the money in the middle of February.  We continue to urge caution at Merge Gaming until this situation is rectified.
Lock Poker Loses Gaming License
We told you about Lock Poker closing in last week's report.  There was some question about whether the scam site may relaunch.  This seems unlikely as Curacao has pulled its interactive gaming license.  Lock Poker has been offline since April 17.
Seals With Clubs Chairman Indicted
Bryan Micon, the former chairman of Seals With Clubs, was indicted by the Nevada Attorney General's office this week.  The Nevada Gaming Control Board raided Micon's house in February.
Micon immediately fled the United States and relocated in Antigua.  He is believed to be there at this time.  Micon referred us to his attorney when we reached out to him for comment.
One interesting piece of information that came to light in the investigation was that Micon attempted to acquire Lock Poker.  The plan was to bail players out.  It appears that Lock Poker was not interested in the sale.
The Seals With Clubs site was shuttered almost instantly after the raid. Micon now heads SWCPoker.  That is a Bitcoin-only poker site that is the successor of Seals With Clubs.
Last Chance for Seals With Clubs Withdrawals
Speaking of Seals With Clubs, players have until May 5 to request a withdrawal.  All support for the site will be removed after that date.
California Online Poker Bill Passes Committee
A bill that would legalize and regulated online poker in California passed an assembly committee this week.  That is the first time in the state's history that online poker has left a committee hearing.  The bill is AB431.  It is mostly blank, leaving out important details like tax rates, whether racetracks may participate, and if companies that accepted Americans after the UIGEA was enacted may enter the market.
These details will be resolved at a later date.  The goal was simply to gain momentum for the bill.