Weekly Roundup May 12 2017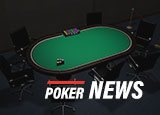 PKR Files Bankruptcy
PKR officially filed for bankruptcy protection this week.  The Microgaming Poker Network site closed suddenly last week.  It appears that PKR is unable to pay player balances.  This would mean that player funds were used to cover operating expenses.  There is no other likely explanation since players were not paid in an orderly shutdown.
PKR issued a new statement on its website.  Players with a balance should email pkr.restructuring@rsmuk.com to make a claim.  Microgaming refused to intervene and pay players in full, pushing blame off onto its former licensee of about one year.
WSOP.com Reload Bonus
WSOP.com is offering a 100% up to $500 reload bonus in both Nevada and New Jersey.  The bonus code is WSOPBOOST.  The offer is available until May 31, 2017.  Players have 90 days to clear the bonus.  The bonus clears at a rate of 20% rakeback.  This is a great deal for anyone interested in playing World Series of Poker satellites.  The bonus can be cleared by paying tournament admin fees charged on these events, including online bracelets.
New Jersey April Online Gaming Results
The New Jersey Department of Gaming Enforcement released April results for its internet gaming sites.  New Jersey's online casino and poker sites grossed $20.8 million in April, up 22.6 percent from the previous year.  Poker raked $2 million, down 23.9 percent, while casino games won $18.8 million, up 31 percent from the previous year.
The biggest winner was Golden Nugget, which includes Betfair.  That licensee grossed $5.4 million, up 62.7 percent from the previous year.  Borgata grossed $4.2 million, up 5.8 percent year-over-year.  The other three licensees – Caesars, Resorts and Tropicana – all raked in between $3.5 and $ million in April.
Nevada Attorney General Focus of Ethics Probe
Nevada Attorney General Adam Laxalt is the center of an ethics probe based on a recorded conversation he had with Nevada Gaming Control Board Chairman A.G. Burnett.  Laxalt asked Burnett to grant a request by Sheldon Adelson, Laxalt's top political donor, that would have involved Nevada Gaming entering into a private legal dispute related to a wrongful termination lawsuit involving Las Vegas Sands and a former employee.  Burnett declined and turned the tapes over to the FBI, which found no wrongdoing.
This is not the first time Laxalt has pushed an Adelson agenda.  Laxalt came out against online gaming, an activity that is legal and regulated in Nevada.  Adelson is a fierce opponent of online gambling, even when games are regulated by the same gaming commission as his casinos.  Laxalt's campaign manager just happens to be the lobbyist behind Adelson's Coalition to Stop Internet Gambling.