Weekly Roundup May 13 2016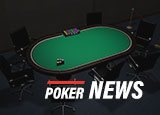 New Jersey Breaks Another Online Gaming Revenue Record
The New Jersey regulated iGaming industry broke another revenue record in April.  The state's legal poker and casino sites took in a combined $17 million. Poker was up 30 percent over April 2015.  This is due to the opening of PokerStars, which raked nearly $1.2 million last month.
Casino games won 34% when compared to the previous year.  Gains were nearly across the board.  The only licensee to post a negative casino month over the previous year was Tropicana, which was down just over 3 percent.
Senator Graham Tries to Quietly Reopen RAWA Discussion
Senator Lindsey Graham (R-SC) inserted odd language into a "Departments of Commerce and Justice, Science, And Related Agencies Appropriations Bill" this week, according to GamblingCompliance. The language attempts to set the tone that the committee is opposed to online gambling.  The bill makes the assertion that the Department of Justice was not within its authority to issue an opinion on the Wire Act and whether states could permit online gambling within their borders.
The language is not legally binding.  This still has online gaming proponents concerned that Senator Graham may try to sneak a binding bill into a must-pass form of legislation like former Senate Majority Leader Bill Frist did in 2006 with the UIGEA.  At least this time around, many congressional leaders are familiar with the angle and many are opposed to the Restoration of America's Wire Act.
WSOP to Accept Credit Cards for Some Events
The World Series of Poker will accept Visa, Mastercard and Discover for events this summer at Rio.  Any World Series of Poker event with a buy-in of $1,500 and lower will qualify.  Players will pay a fee of about 3 percent to run the transaction.  The first buy-in using a credit card must be made at least 72 hours in advance of the tournament.  On future buy-ins, players may use the card with no time constraints.