Weekly Roundup May 19 2017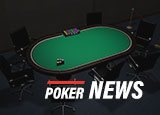 Party Poker Brings Back Rakeback
Party Poker has struggled to compete with the world's largest poker site.  The company attempted to change its way by removing rakeback and going to a rewards system geared towards casual players. That concept must not have worked as now Party Poker pays players cash back weekly based on the amount of rake paid.
The promotion, which starts May 22, Pays based on the following weekly rake or tournament fees paid:
Every $25 rake paid up to $100 receives $5
Every $50 rake paid above $100 up to $500 receives $12.50
Starting at $600, players receive $30 for every $100 rake paid
Starting at $1,200, players receive $80 for every $200 in rake paid
Players must opt into this promotion in their account tab.  Payments are made every Monday.
PokerStars Changes VIP Program
While Party Poker returns to a more traditional rakeback strategy, PokerStars continues to move a direction that leaves serious players behind.  Players that give action at poker, sports and casino games receive chests.  Each chest comes with a personalized reward that is geared towards your favorite game. For example, sports bettors are likely to receive free bets, while poker players would receive items like tournament tickets or StarsCoins.  The promotion produces a randomized approach that PokerStars feels is more attractive to casual players.
SWC Poker Reduces Rake
SWC Poker reduced its rake to reflect the sharp rise in Bitcoin prices.  All tables at SWC Poker operate in Bitcoin.  This means that the rake cap became excessive compared to other sites as it ran up.  The old rake cap was .004 Bitcoin, or about $7.60 at $1,900 BTC.  The new rake cap is .002 Bitcoin at most games, cutting that rake cap down to what is closer to industry norm.  SWC Poker's rake percentage was already half of what most sites charge.
Winning Poker Network Adds Double or Nothing Feature
Players on the Winning Poker Network, which includes skins like Americas Card Room, Black Chip Poker and True Poker, added a bizarre feature this week that is certain to take a toll on the bottom line of some players.  When a table is closed, a player is offered the option of doubling the win or losing it all, or doubling the loss or getting back to even.
The first thought is that this mimics a video poker machine's double up feature but that is not the case. Winning Poker uses a standard deck and adds two jokers.  The player must pick red or black.  The player wins an amount equal to the session's win or loss if he is right.  If he is wrong, the amount of win is taken away and the session goes back to even.  A player that lost will experience a double loss.  To make the situation worse, there are two jokers in the deck that are automatic losers for the player.  The house edge on this perceived coin flip is 3.7%, making it worse than single zero roulette.