Weekly Roundup May 2 2014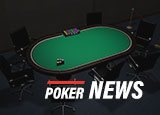 Ultimate Poker First Anniversary and Reload Bonus
Ultimate Poker in Nevada celebrated its first anniversary this week.  It is now offering a reload bonus for this milestone.  Players may receive a 100% up to $100 bonus on the next deposit made between now and May 9, 2014.  The bonus releases in $25 increments for every $50 in rake paid.  Players have 30 days to clear the bonus.
Pennsylvania iPoker Hearing
Pennsylvania House Democrats held a hearing to discuss online poker.  Very little new information came out of the hearing and it appears the state is probably not as close regulation as some experts thought.  One interesting tidbit is that Caesars Entertainment says that 91 percent of its online players did not already have a Total Rewards card.  This is the comps program offered by land-based Caesars Entertainment properties.
Poker Host Bans Winning Players
Poker Host moved to the Equity Poker Network last month.  This new network aims to attract recreational players.  Many of the partner sites are sports books.  It appears that some of the former Merge Gaming players are not welcome on the new network.  Several players report getting banned for winning too much or playing too aggressively.  This has caused an uproar by angry players at poker forums.
Revolution Gaming Raises Rake Caps
There is new rake schedule at the Revolution Gaming Network and new players are not going to like it.  The cap went from $1 to $2 at games of $.10/$.25 and lower.  The cap for games up to $20/$40 is now $4.  Higher limit games now have a $5 max rake.  Revolution Gaming skins include Juicy Stakes, Intertops, and WinCake.