Weekly Roundup May 23 2014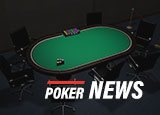 Full Flush Poker Leaves Three Regulated States
Last week, we told you about the Winning Poker Network leaving the three regulated U.S. states.  This week, we have news of another site that decided to leave Delaware, Nevada, and New Jersey.  Full Flush Poker, a member of the Equity Poker Network, pulled out of these three states.  The site notified players through a message on its Fullflushpoker.com website:
Full Flush Poker today announced a move to serve players only in markets without state-licensed poker sites. Effective immediately, players in New Jersey, Delaware, and Nevada will no longer be eligible to play real money online poker at Full Flush Poker.
This notice is automatically displayed to players in the three affected states.  These players cannot access the website and must cashout immediately.  There are other skins on the network that still accept players from these states.  These sites include 5Dimes and PokerHost.
California Online Poker Conference
The conference of online gaming was held in California this week.  The biggest discussion at the conference was PokerStars and its suitability.  Most tribes once again stated that they support a bad actor clause that would keep sites that accepted U.S. players after December 31, 2006, out of California.  The exception was the Morongo Tribe, which partnered with three California poker clubs and PokerStars. One interesting fact that came out of the conference was that the partnership of the Morongo tribe and card clubs could challenge the law in court if they were excluded by law from participating in the market.
American Gaming Association Stops Supporting Online Poker Movement
The American Gaming Association (AGA) decided to stop support the movement to legalize and regulate online poker, according to a report from CNBC.  This appears to be due to the opposition by Sheldon Adelson.  Most members of the AGA still appear to support the regulation and legalization of online poker in the United States.