Weekly Roundup May 27 2016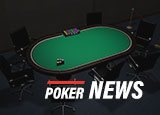 Treasure Island Launches Subscription Poker Site
Treasure Island launched a subscription online poker room this week.  Players have the option of entering the pool for free or paying $9.99 or $14.99 per month.  The more players invest, the higher the potential prize pools.  Prizes are awarded to players that compete in tournaments.  These include cash and entry into live events at Treasure Island's poker room in Las Vegas.
Treasure Island appears to be taking a conservative route in terms of which states it accepts.  Players are only welcome in 25 states.  This is lower than other versions of the concept spread by competitors.
Treasure Island once planned on launching real money online poker in Nevada.  It partnered with 888 and received licensing.  Those plans were shelved due to market conditions.
This is not the first time Treasure Island entered interactive gaming.  The company briefly launched a sports betting app in the past year.  It was removed from the market after about two months.
RAWA Attempts Fail Again
Attempts to sneak through language that would look to ban online gambling failed once again in Congress this week.  Rep. Charlie Dent (R-PA), who represents the district where Sands Pennsylvania is located, attempted to place anti online gambling language into a House appropriations bill.
Rep. Dent withdrew his amendment after opponents waged a battle against it and the lack of support was obvious.  Unfortunately for online poker players, the fight may never end as special interests continue to try underhanded ways to ban online gambling.
Pennsylvania Online Gambling Bill Fails
Two Pennsylvania bills that would have legalized and regulated online poker and casino games failed this week in the state assembly.  One bill contained language that would have also permitted bars to offer video gaming, while the other was free of that portion.
The bill removing the video gaming language only managed to receive 15 more votes than the one that would have expanded gambling to bars.  Ultimately, it lost be 26 votes by an 81-107 margin.