Weekly Roundup October 16 2015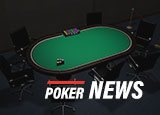 Party Poker Rolls Out Player Protections
Party Poker first announced player ecology improvements on October 1.  The first segment of this was instituted this week.  Party Poker now lumps all players waiting for a game and limit onto the same list.  The player that is first in line on the waitlist is issued the first seat that becomes available.  In addition to this, players cannot see any usernames at the table until the first hand is dealt.
The next segment will be available in the coming weeks.  It will remove the ability for players to download hand histories.  These will still be available in the software.  This move will make datamining impossible at Party Poker.
Delaware and New Jersey Post Lowest Online Poker Revenues Ever
New Jersey posted just $1.77 million in poker revenue in September.  This was the lowest amount ever for poker in the Garden State.  Casino revenue was $10.25 million, marking a 17 percent improvement from the previous year.  Casino revenue improving while poker declines has been a trend in New Jersey for much of its regulated existence.
The situation is Delaware was even worse.  Casino revenue was $135,000, about even with previous months.  Poker posted just $24,523 in income.  That was the lowest number in state history.  That is especially disappointing considering that this is the time of the year that poker action improves as school starts and the weather gets cooler.  The interstate liquidity sharing agreement with Nevada was also thought to have been a feature that would have drawn more poker players to Delaware.  That apparently has not been the case.
Winning Poker Network Cancels $1 Million Tournaments
The Winning Poker Network spread three of its five $1 million guaranteed tournaments before canceling the last two on its schedule.  It cited massive losses covering the overlay, which totaled more than $400,000 across the first three tournaments.  The two $1 million tournaments will be replaced with four $500,000 guaranteed tournaments over the next month of Sundays.  The buy-in will also be dropped from $540 to $270.
Daily Fantasy Sports Sites Forced Out of Nevada
Nevada gaming regulators declared daily fantasy sports gambling in the state on Thursday.  Regulators stated only licensed gaming companies can offer the product.  All major daily fantasy sites left the state immediately.  Nevada players are asked to collect balances as soon as possible.  On Friday, the Nevada Attorney General's office published a 17-page opinion on the topic.
This news broke as the daily fantasy sports industry is under investigation by a federal grand jury in Florida.  There more than a dozen lawsuits filed against daily fantasy sports companies.