Weekly Roundup September 1 2017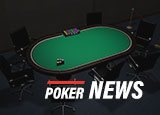 888 Hit With £7.8million Penalty
The gambling group 888 was fined £7.8 million for failing to provide adequate problem gambling safeguards. It was discovered that a bug permitted 7,000 players that had self-excluded from the poker, casino and sports side of the business were able to deposit on the 888 bingo site. These players deposited £3.5 million over 13 months, according to the United Kingdom Gambling Commission.
A separate incident was related to an individual player that lost £1.3 million at 888. A small portion of these funds were stolen from the player's employer, according to the UKGC release.
PokerStars Limits Live Satellite Wins
There's a new rule at PokerStars related to the number of satellite tickets that a player may win to live events. Players may now win no more than one ticket. In the past, professional players would play many satellites after winning a seat to a live event. PokerStars permitted players to receive cash value for the seat. That is no longer the case. The move hopes to create more recreational players on the winning end of a live tournament package.
Partypoker Announces $35 Million Powerfest Schedule
Partypoker starts its Powerfest on September 3. It runs through September 24. There will be 330 events with a combined $35 million in guarantees. There are 12 championship events with a combined $13 million guaranteed.
There are 20 events with a buy-in of just $5.50. There's a leaderboard and Tournament of Champions. There are $300,000 in total promotions for Powerfest at Partypoker.
The tournaments are spread on the .com platform available to players. Ring-fenced markets, including France, Spain and the state of New Jersey, do not have access to this tournament. Bwin players can participate in Powerfest through the poker platform as it is on the same network as Partypoker.