Weekly Roundup September 15 2017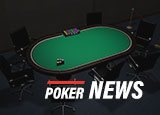 New Jersey Online Gaming Posts Another Successful Month
New Jersey online poker and casino sites combined to generate $21.3 million in revenues last month. Golden Nugget led the field with $5.2 million. This is impressive since the licensee does not offer online poker. Golden Nugget's partner is Betfair.
Online poker continues to struggle. These games raked about 10 percent of the total revenues at $2.1 million. This was down 4.2 percent from last year. Casino games more than made up for this by generating $19.2 million, up 38.1 percent from the previous year.
PokerStars continues to lead the online poker industry in New Jersey. The site raked $821,901 last month. Its two competitors – Borgata and Caesars – raked in the $600,000s last month.
Michigan Online Poker Bill Introduced
Some Michigan lawmakers are looking to expand online gaming beyond its lottery games. Michigan Rep. Brandt Iden introduced a bill that would legalize online poker and casino games for state-licensed casinos and tribal gaming interests willing to renegotiate compacts. The latter may create friction between tribes and legislators.
The bill would include licensing fees and a 15 percent tax rate. Former Attorney General Mike Cox testified in support of the bill.
Antigua and Barbuda Ask for WTO Settlement to Rebuild
The island nation of Antigua and Barbuda are asking the United States to pay its World Trade Organization's ruling punishing America for not permitting offshore online gaming. Hurricane Irma nearly destroyed Barbuda, while largely sparing Antigua. The WTO ruling awarded Antigua and Barbuda $270 million in a dispute that dates back to 2004. The country would like the money to help rebuild from the hurricane's destruction.
Absolute Poker/UB Deadline Passes
Players looking to claim funds lost on the fraud poker sites Absolute Poker and UB have missed the deadline to file a claim with the Garden City Group. While claims are still accepted, there is no guarantee that these will be paid. The claims administrator for one of the largest frauds in online poker history is now moving onto disputed claims. About 7,400 players have filed $33.5 million worth of claims, according to the Garden City Group.
Bovada Bans Grandfathered Players in Five States
Bovada stopped permitted players in Delaware, Maryland, Nevada, New Jersey and New York years ago. The largest US poker site remained committed to allowing existing players in those states to stay. That changed this week. Players in those five states must withdraw all funds by October 2 as the site will close to those jurisdictions.
This will be the second time these poker players will lose access to the PaiWangLuo Network, formerly known as Bodog. Bovada moved its online poker operations to Ignition Casino last year where grandfathered players in those states could not sign up. It recently reopened online poker, once again allowing these players to play at PaiWangLuo. Once again, these players will lose access to this platform.