Weekly Roundup September 20 2013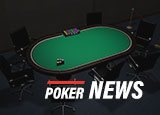 WSOP.com Launches for Real Money
This week started with a conference call between WSOP.com management and the media.  WSOP announced that it would launch for real money online poker at 9:19am on September 19th to players located in Nevada.  It actually opened a couple of days early to anyone that created an account at Rio during the World Series of Poker.  According to WSOP officials, 12,000 players created an account at WSOP.com over the summer.
There have been a few issues associated with the launch.  Players with Sprint and Virgin Mobile cell phones have been unable to play due to geolocation issues.  There were also some Cox customers that were being shown as being in Phoenix even though they were in Las Vegas.  Players must be in Nevada to play.
WSOP offers Texas Hold'em, Omaha, Omaha High/Low, Seven Card Stud and Seven Card Stud High/Low.  There are No Limit Texas Hold'em sit and gos available from $1.10 up to $55.  Multi table tournaments are available in No Limit Texas Hold'em and Pot Limit Omaha.
Players may deposit using Mastercard or electronic check.  The maximum deposit is $500.  Players may not deposit cash at casino cages.  WSOP players may withdraw by check or bank transfer.
Full Tilt Poker Remission Payments
The Garden City Group started emailing former US Full Tilt Poker players on Monday.  Emails went out to players that included instructions on how to file a remission claim.  The Fulltiltpokerclaims.com website opened to players on Wednesday.  Players may login to find the Full Tilt Poker balance available.  If it is correct then it is easy to submit a claim.  There is a dispute process available if the balance shown is not correct.
Winning Poker Network Server Issues
The Winning Poker Network has experienced major server issues this week.  Numerous players have complained in the Winning Poker forum at Two Plus Two.
Carbon Poker Dumps Two Plus Two Forum
Speaking of Two Plus Two, Carbon Poker unexpectedly dropped the company's sponsored forum.  Every post was deleted and replaced by a notice from a Two Plus Two administrator.  While some players have feared the worst about the abrupt exit, Carbon Poker is still processing checks in about two weeks to US players.