Weekly Roundup September 25 2015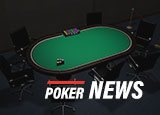 PokerStars New Jersey Application Still Under Review
David Rebuck, director of the New Jersey Division of Gaming Enforcement, told Global Gaming Business that the PokerStars licensing process was unique and long process.  It is still ongoing.  Rebuck cited 80 sworn interviews his office had given across six countries to describe how thorough the investigation is.
Amaya Gaming hoped that it would be licensed to operate the PokerStars brand by the end of the third quarter.  That is just one week away.  The PokerStars New Jersey interactive license application was suspended due to pending legal issues with the company's founder.  PokerStars was later sold to Amaya Gaming, which already operates casino platforms in New Jersey.
Odlanor Malware Discovered in Poker Platforms
ESET announced that it discovered malware that allows cheaters to see the hole cards of players at PokerStars and Full Tilt Poker.  The malware was discovered on a few hundred machines, according to the report.  Odlanor takes screenshots and sends them to the cheater.  Victims can then be found through the search feature available in the software at each poker site.
Golden Nugget Closing Free Play Poker Site
Golden Nugget will shutter its free play poker site on September 30.  The site emailed players earlier this week with the announcement.  Players with pending comps were asked to redeem them immediately.  Golden Nugget used Ongame software.  The site is moving to NYX Gaming platforms later this year.  It is not expected to offer online poker.
Golden Nugget planned to offer real money online poker in New Jersey.  That idea was shelved when it became clear that the market could not sustain more than two poker networks.
Merge Gaming Cashouts Still Slow
There is little in the way of movement for Merge Gaming cashouts.  U.S. players are still waiting three or four months for checks.  Players outside the U.S. are receiving bank wires within a few weeks of being requested.  Many of these requests were pending as Skrill withdrawals for months before being canceled.  Merge Gaming now offers Bitcoin withdrawals to players so that may increase cashout speeds.  We will keep an eye on that in the coming weeks.