Winning at the Poker Table Isn't The Only Way to Make Money at Online Poker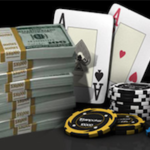 Are there ways to make money at online poker without necessarily winning? Poker is a game that combines skill and luck. The best players will find a way to win in the long term. Average players are able to make a profit at online poker through a variety of other methods.
Here a few options that will help you make money at online poker whether you win or lose.
First Deposit Bonuses
New players starting out at a poker site are offered a first deposit bonus. Some sites, like Carbon Poker, only return players five percent rakeback. Most sites offer at least 20 percent rakeback on a first deposit bonus. The best sites return 50 percent or higher. The only requirement to qualify for this bonus is to make a deposit.
The amount is usually a match for the deposit amount up to $1,000. The bonus typically releases in increments as the player pays rake and earns points. Most deposit bonuses expire after either 60 or 90 days. Always make sure to read the site's terms and conditions to find out what the house rules are for bonuses.
Rakeback
Some online poker rooms give rakeback to players. This number is typically between 25 and 36 percent, depending on the room. A player typically gets credit for rake on tournament fees or in cash games where money is put into the pot. Rakeback pay deducts items like deposit fees or bonuses. Even if there are deductions, rakeback is free money in online poker, as long as the site offers it.
VIP Programs
Sites that do not offer rakeback typically offer VIP programs. The exceptions are Bodog/Bovada, Merge Gaming and BetOnline. Note that these sites all have one thing in common. They are U.S.-friendly. Most other sites offer returns to players that give a minimum amount of action. This includes freerolls, tournament tickets, bonuses or straight cash. VIP bonuses are typically paid out weekly. Some sites require the player to request VIP funds, tickets or prizes in the software.
Free Bankrolls
Some poker sites give players free cash just for creating an account. This is common in the New Jersey regulated market, as well as at some smaller international sites. Some affiliate sites specialize in free bankrolls. These offers often give chips to get a player in action with a pending bonus to encourage responsible play.
Prop Programs
Players willing to get into shorthanded action will find prop deals. These can run at 100 percent rakeback and higher. These deals often require players to sit at tables waiting for action while enjoying other games. Other rules include chatting with players while encouraging a fun play environment.
Some prop programs require players to sit at tables during specific times of the day. A shorthanded play is always required for these programs.
Reload Bonuses
An old-school method of retaining players was offering reload bonuses. This is the same as a first deposit bonus. The only exception is that a reload bonus is available to existing players. These often have the same terms as a first deposit bonus. The same rakeback amount applies to a reload bonus as the original one. The site will advertise a reload bonus on its promotional page and often send an email to alert players if one is available.
Rake Races
Some poker sites offer races based on the amount of rake paid by players. These can be known as rake races and point races. The players that pay the most rake or generates the most points will take home extra prizes. Sites often pay the top 10 or 100 players. First place is typically 20% of the prize pool. These are less popular than they once were as sites try to move towards attracting recreational players.
Happy Hours
Some sites pay higher VIP points during slow periods of the day. This promotion is typically called a happy hour. Players will earn cash back during this time but not more points that go towards VIP tiers.
Freerolls
Virtually all poker sites offer freerolls. These are great ways to boost a bankroll without putting any money at risk. Many small ones do not have any requirement to enter. Larger ones may be available to players that earn higher tiers in VIP programs or made the first deposit. Some poker sites offer freerolls to any player that made a deposit during the previous week or month.
Rotating promotions
Sites tend to change promotions on a monthly basis. It is important to check the company's website and pop-ups in the software when logging in to see what offers are available.