Dash Poker Sites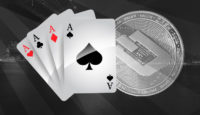 Dash (DASH) is a cryptocurrency that is remarkably similar to Bitcoin. Dash has a bit more privacy and faster transactions speeds than Bitcoin. Evan Duffield founded Dash in 2014 after trying to make adjustments to the Bitcoin protocol but to no avail from the core developers. You can play at Dash poker sites
Dash was initially called "XCoin," which later became "DarkCoin." It later became branded as Dash. It isn't as popular as Bitcoin, Bitcoin Cash, Litecoin or Ethereum, but poker players still utilize Dash –as do gamblers of all forms– to gamble online. It is unlikely Dash surpasses the above coins regarding usage, but it is still a viable option for online poker players.

Best DAsh Poker Sites of 2023
Rank
Poker Room
Payment Grade
Bonus
Play Poker
Playing Online Poker Safely Using Dash
Dash essentially functions like Bitcoin and most other cryptocurrencies. Poker players who have used other cryptos won't have any issues utilizing Dash.
Why Use Dash to Play Online Poker?
If you're a fan of Dash as an investment or use it for transferring funds, it's a perfectly fine option to use for depositing and withdrawing from online poker sites, as well.
Like other cryptocurrencies, it's cheaper to use than credit and debit cards and other deposit methods. Withdrawals are also free at most sites and much faster than checks or bank wires.
Is It Legal to Use Dash to Play Online Poker?
It's always best to check your local jurisdiction regarding online poker and betting laws, but there is no federal law against playing poker on the internet or using cryptocurrencies, such as Dash.
Pros & Cons of Dash Poker Sites
What we like about Dash
Anonymity – Much better anonymity compared to Bitcoin and Bitcoin Cash
Speedy Transfers – Faster than money transfers or bank wires and cheaper
Quick Payouts – Super fast for withdrawals compared to checks and other methods
Free Transactions– Most poker rooms don't charge for cashier transactions using Dash
What we do not like about Dash
Cryptos Are Unfamiliar – Still a cryptocurrency, is something  people aren't familiar with or don't want to get into
Price Fluctuations – The price can fluctuate within a matter of minutes. Usually, not the case, but users may lose 5-10% on a payout request.
Not As Widely Accepted as Bitcoin – It's not as widely accepted as Bitcoin and Bitcoin Cash. You may have to search a bit more to find an online poker room that takes Dash.
Top Dash Poker Sites and Rooms
What is Dash?
It's a cryptocurrency, similar to Bitcoin, in function. It was established in 2014. As of this writing, it has a market cap of $190 million and a price of around $235 per coin.
Acquiring Dash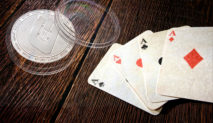 Acquiring Dash is the same as any other cryptocurrency. Sign up at an exchange where you can buy Dash and purchase it by linking your credit or debit card. You may also buy it with other cryptocurrencies at exchanges. You can also store Dash in a crypto wallet.
Making Transfers Using Dash
Sending Dash is just like sending Bitcoin. Just get the address of the wallet, website, or friend where you want to send the coins. Confirm the address and the amount you want to send. Then send the transfer.
Dash transactions are usually quick, under a half hour. They come with almost zero fees, as well.
How To Play Poker Online Using Dash – 5 Easy Steps
Sign up for a cryptocurrency exchange, purchase Dash with the currency of your choice
Sign up for an online poker room that accepts Dash
Buy your crypto and receive a Dash address from the poker room where to send your deposit
Send your deposit and await confirmation
Play poker with your deposit!
Other Cryptocurrencies Accepted in Online Poker
Best Ethereum Poker Sites of 2023
Rank
Poker Room
Payment Grade
Bonus
Play Poker