Nevada Poker Site Real Gaming Appears to Have Folded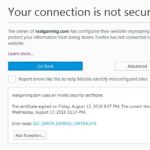 Update August 19, 2016: The Real Gaming website's security certificate issue is resolved, however, Google Chrome still displays a security warning. The only tables displayed are $100/$200 and higher cash games.
Original story:
Real Gaming's website has been down for most of the last 45 days.  The site experienced several issues during that time.
Realgaming.com's security certificate expired in early July.  This made it impossible for players to access the poker tables because the software is web-based.  It was developed using HTML5.
When the site recovered, all cash games and freezeout tournaments were removed from the lobby.  Sit and gos remained, however, there was no action at these tables.
A separate site outage at Real Gaming in July involved visitors receiving a 404 error.  When the site returned, all games were missing from the lobby.  This included the sit and gos tables that survived the first outage. The site's cashier still provided a screen for deposits and withdrawals when there were no tables spread.
Three cash game tables were eventually added to the lobby.  The lowest limit was $100/$200 No Limit Texas Hold'em.  These limits are about 100 times higher than any action Real Gaming ever received and were not available when the site was active.  These high limit tables received no action during their existence.
Sit and gos and freezeouts never returned to the lobby. The high limit cash games were sporadically available over the past month.
Real Gaming offline for past week
Real Gaming is once again offline.  The site's security certificate expired on August 12. The issue has not been corrected.
Real Gaming's tables are web-based so an expired security certificate essentially makes the site inaccessible.  In addition to this issue, Google Chrome warns, "The page is trying to load scripts from unauthenticated sources."
No explanation from Real Gaming or Nevada Gaming Control Board
I reached out to Real Gaming through social media when the site was offline on July 8 and did not receive a reply.  The site returned online on July 11.  I contacted player support at that time to inquire about the lack of tables available.  Support responded that the site was undergoing maintenance.
Real Gaming's website remained online until last week.  It went back and forth between spreading no tables and only offering nosebleed limits until it disappeared again on August 12.
With no response through Real Gaming's social media accounts and no way to contact its web-based support, I contacted the Nevada Gaming Control Board with a detailed description of my findings on August 13.  I did not receive a response.  I also contacted a Real Gaming co-founder through his Realgaming.com email address.  He did not respond to the request for comment.
Real Gaming stopped marketing in 2015
Real Gaming appears to have thrown in the towel well before these site issues.  The last tweet from the company was n December 25, 2015.  That is also the same day as its last Facebook post.
We are not the only ones that have not received a response when attempting to contact Real Gaming through social media.  There are others with unanswered tweets and Facebook inquiries.
Nevada down to one regulated poker site
Real Gaming is a subsidiary of South Point Casino.  It was the third regulated poker site to enter the Nevada market.
Ultimate Poker was the first Nevada poker site.  It launched in April 2013 and shuttered in November 2014.
WSOP.com opened in September 2013.  It remains open and maintains the largest cash game player pool in the U.S. regulated market, according to PokerScout.
With Real Gaming apparently out of business, WSOP.com becomes the sole regulated online poker option in Nevada.  WSOP.com has maintained a market share near 100% since Ultimate Poker folded as Real Gaming typically had no action at its cash game tables.
John Mehaffey – @john_mehaffey