The Death of Online Poker Bad Beat Jackpots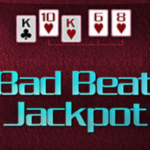 The poker boom introduced bad beat jackpots to the Internet. While these have been common for decades at live poker rooms, bad beat jackpots turned out to be one of the troubles that damaged online poker liquidity. At one point, most major networks offered an online poker bad beat jackpot. The exceptions were PokerStars and Full Tilt Poker.
What is a Bad Beat Jackpot?
A bad beat jackpot rewards a poker player that loses a big hand. In live poker rooms, the losing hand is usually a full house that is aces over 10's or better. Online poker rooms make a bad beat jackpot much harder to unlock. It typically takes four 8's or better losing to hit the poker bad beat jackpot at an online poker site.
Both players must use both hole cards to release a bad beat jackpot. Four of a kind typically must be made with a pocket pair to qualify, although some houses just require that the kicker plays if there are trips on the board. Always make sure to read the house rules pertaining to bad beat jackpots.
Problems Created by Bad Beat Jackpots
Bad beat jackpots typically take money out of every pot to fund them. The rake is usually $.50 per hand online and $1 at live games. This money stays out of the poker economy until it hits. These tens or even hundreds of thousands of dollars leave the tables and player pockets for weeks or even months until the jackpot hits. It is no different than being an additional rake during that time. This makes games break faster and hurts player bankrolls.
When the bad beat jackpot finally hits, the money is typically divvied up among just a few players. The losing player typically takes home half of the bad beat poker jackpot. The hand that beat him often wins 30% of the pool. The rest of the table, or sometimes the rest of the poker room where the exact game is being played, divides the remaining 20% of the pool.
Hundreds, maybe thousands, of players that contributed to the bad beat jackpot end up with none of it. That makes the bad beat jackpot drop additional rake. The players that won what is sometimes life-changing money never put those chips back into action. That cash leaves the local poker economy forever.
Live poker rooms don't usually take a percentage of the bad beat jackpot when it hits due to local gaming laws. Online poker sites often take 10% or more of it. Part of the pool goes seeds the next bad beat jackpot. This means it gets hit with the 10% or higher admin fee again and again as it is churned.
Issues With Online Poker Bad Beat Jackpots
Another issue with a bad beat jackpot is the ability to move such large funds, especially for offshore U.S. sites. Some bad beat jackpots saw winners take home hits well over $100,000. Payment processing issues in the U.S. make this a difficult sum to transfer.
The situation at Cereus is another reason why bad beat jackpots can be a bad idea. Players expect that bad beat jackpot funds are held safely by the site. Absolute Poker and Ultimate Bet proved that is not always the case. Two players hit massive bad beat jackpots in 2011 that totaled more than $600,000 combined. Those players got stiffed because Absolute Poker and Ultimate Bet were a scam.
Online Bad Beat Jackpots are Different Today
Poker sites started to realize that bad beat jackpots are not conducive to a thriving poker economy. It rakes too much money out of a declining poker industry and that hits the bottom line of sites.
Ignition and Carbon Poker came up with the idea of funding a bad beat jackpot with house money. No additional jackpot rake is taken from the table. Carbon Poker has a quad 8's qualifier to release it.
Ignition Poker gives a player that loses aces full of kings or better in Texas Hold'em 100 big blinds. The maximum amount is $1,000.
Microgaming has an entirely different bad beat jackpot strategy. It permits players to opt into the jackpot by contributing $.02 at tables $.10/$.20 and higher. A player that puts up the contribution can win his share, even if the other hand that he beats or beats him did not participate. This replaced traditional bad beat jackpot tables that raked $.50 per hand.